Reporting Tools: The 2020's Comprehensive Guide
You may have viewed many articles or reviews about reporting tools lists or open-source reporting tools. Have you decided which to choose among these? Do you feel confused, which is best for you?
Before you decided, please ask yourself, do you know the answers to the following questions?
What are the reporting tools?

What types of reporting tools do you need?

What other functions of reporting software in companies?

What the difference between Excel, BI software, and Reporting tools?

How does the Reporting tool work?
If you have no idea. Keep reading …
The answers may help you to make a better decision. 
1. What is a Reporting Tool?
Reporting tools allow you to extract and dynamically present data in the form of charts, tables, and other
types of visualizations
so users can translate data into actionable information and discover insights.
In other words, you can view reporting software as various styles+ dynamic data.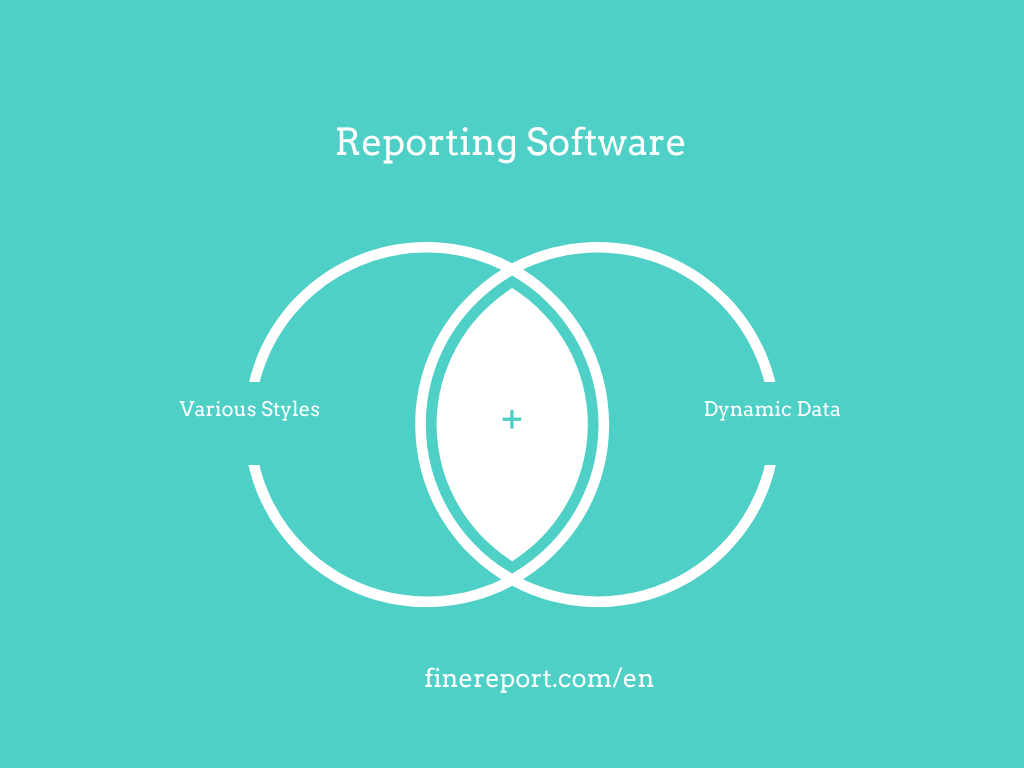 It can also allow you to build paginated reports ideal for printing. A reporting tool is typically an application within a business intelligence software suite. Reports can vary in their interactivity. Static reports cannot be changed by the end users while interactive reports allow you to navigate the report through various hierarchies and visualization elements. Interactive reports allow you to drill down through various levels of the data at the click of a button. They also allow you to navigate, sort, filter and view the data for your specific needs.
2. The Basics of Reporting
Reporting is commonly an early step in data processing that achieves the goal of delivering interactive, actionable information. Interactivity in the form of drill-down, sort, filter, and other features allow you to further explore your data for the best insights. Actionable information empowers you with the knowledge to make better business decisions.
3. Two types of reporting tools
Generally, there are two types of reporting software. 
3.1 Fixed Reporting
One is the reporting software that mainly deals with the fixed report. When creating the fixed reports, the IT department will first define the picking-number formula and arithmetic logic. The background covers complex operations. 
In the foreground, business people can view, add, delete, or change the data on the web. It does not involve the modification of the report structure. The fixed report is the most common in daily report development.
This type of reporting tool is suitable for IT departments and reports developers in different departments. 
3.2 Self-Service Reporting
Another type of reporting tool is working as the function of the BI tools, which is called self-service reporting. 
Business people can drag the fields to create the reports without predefined structure. It can deal with simple temporary queries.
This type of reporting tool is suitable for data analysts or business analysts.
The emergence of self­-service reporting capabilities has driven the levels of interactivity even further by giving the power to create and edit reports directly to decision-makers, further empowering them to drive businesses forward while decreasing the workload on developers and report developers
4. The Functions of Reporting Tools For Business 
4.1 Enterprise Reporting For Visualization 
As the types of charts become more diverse, and the visual effects become more impressive, traditional reporting software in the companies begins to play a role in data visualization. It does so by utilizing a number of different components from charts, graphs, tables, as well as other widgets. A report can be made up of one of these component parts, or many of these component parts. These component visualizations are used to represent data in different ways, but all are used for the purpose of presenting information in an accurate and usable way to end-users.
With the rich charts and graphs, the reports are no more just the tables. The KPIs can be tracked via dashboards on the TV screen in the meeting.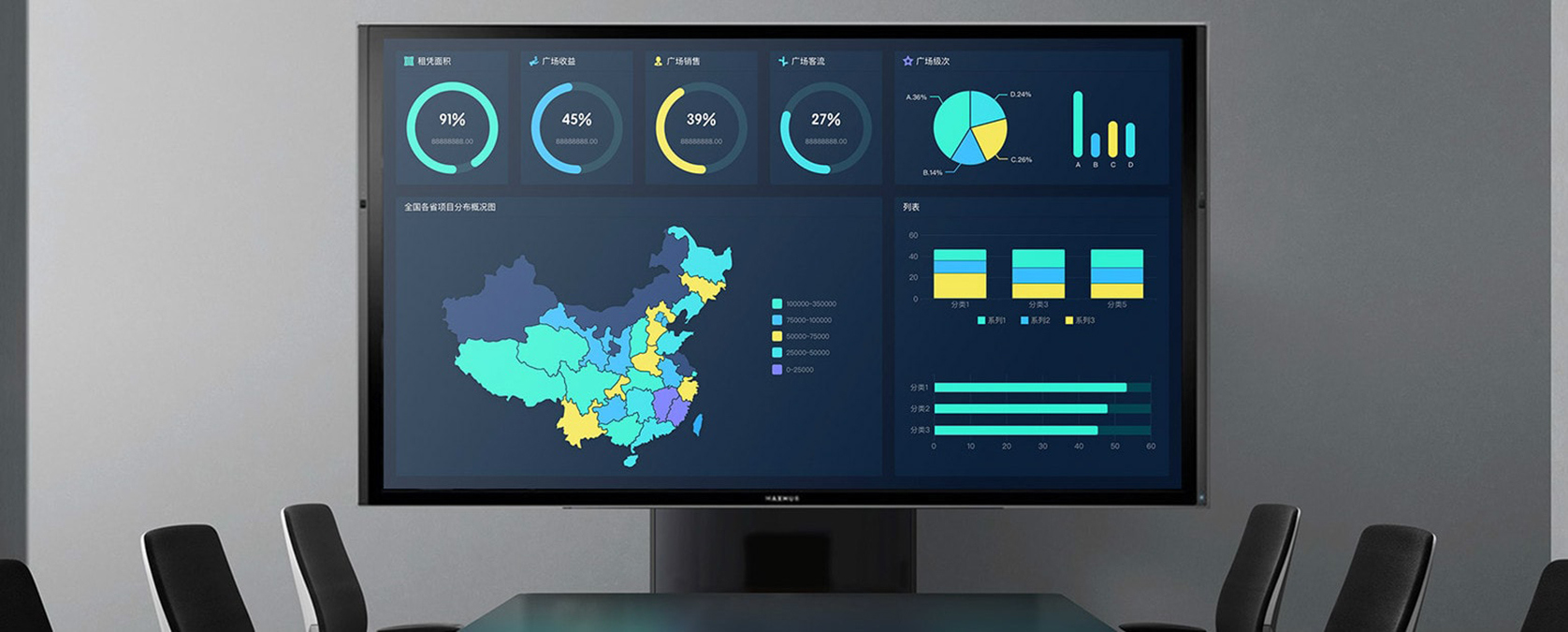 The project progress can be monitored in the monitoring center.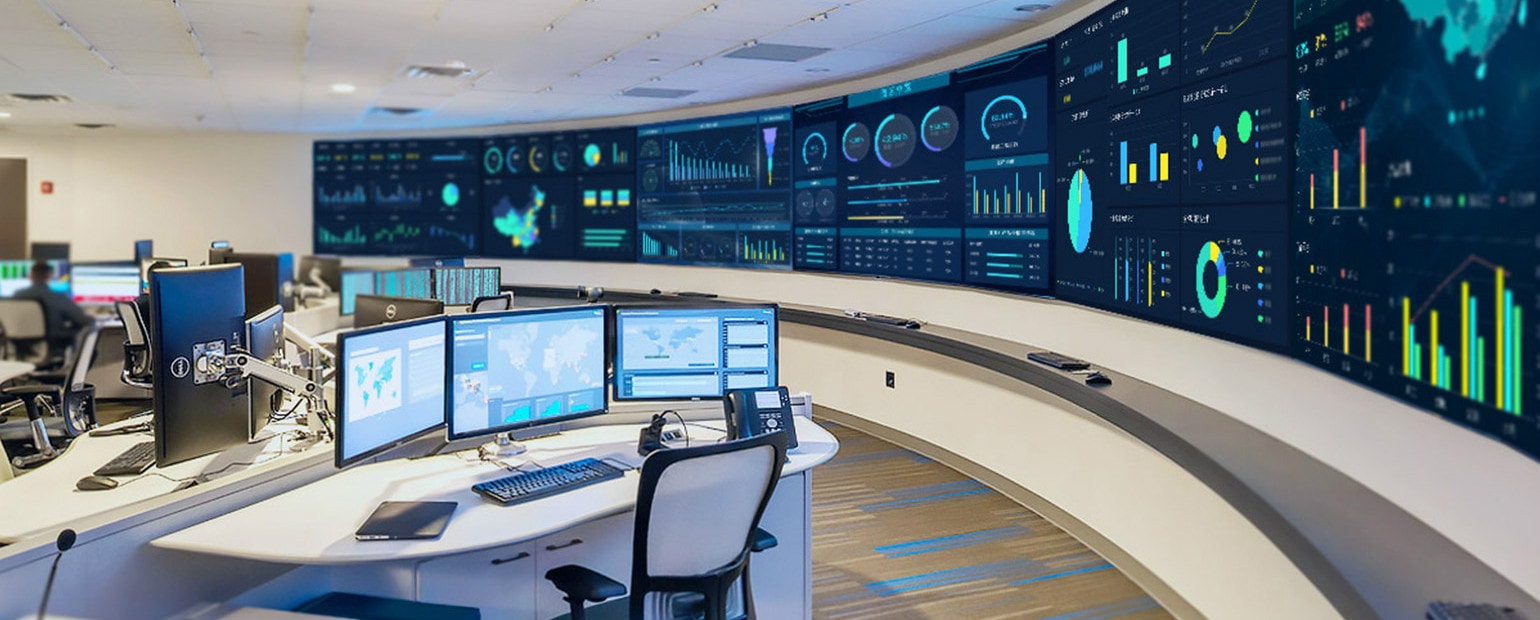 The exhibition also becomes more technical.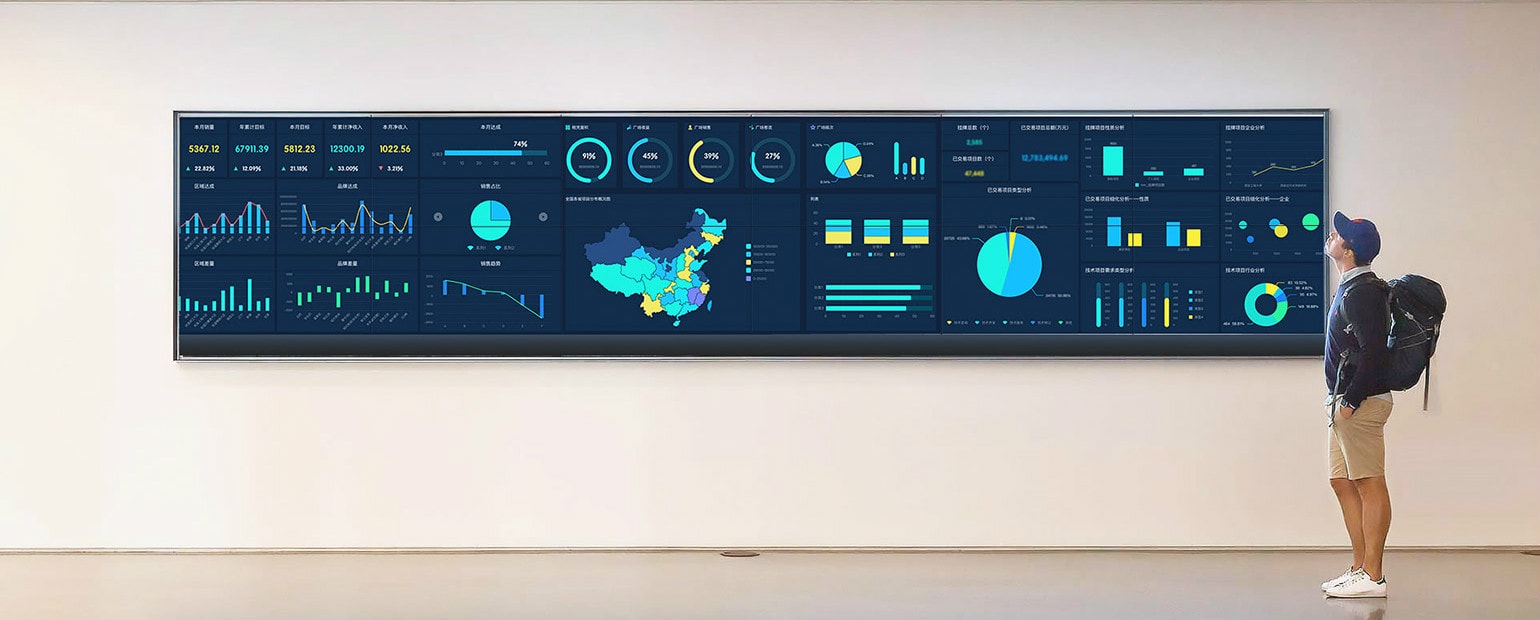 Actually, what used to only be simple visualizations of data, are now being used more and more for the purposes of data discovery, and in some cases full­fledged data analysis.
4.2 Enterprise Reporting For Analysis 
The modern reporting tools also can deal with the analysis demands in the business.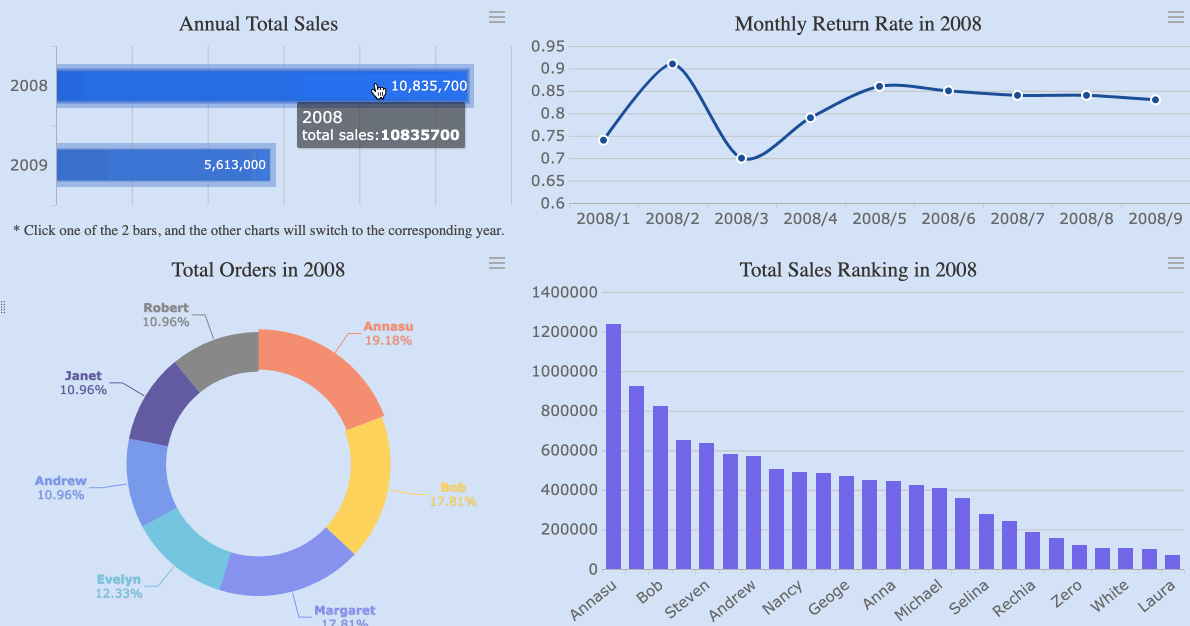 Through functions such as interactive dashboards, multi-dimensional drilling, linkage analysis, and so on, you can perform advanced analysis and keenly discover the connection between data.
And the automatic refresh ensures the analysis up-to-date. 
For example,  by using the enterprise reporting tool like
FineReport
users can turn the business model and data analysis of the enterprise into a practical and operational information system. You can use the functions of report presentation, report, summary, statistical analysis, printout, and other functions to build a lightweight
enterprise reporting platform
. In particular, using mainstream data two-way expansion, multi-source sharding, pure drag and other methods for report design makes designers not need to master complex code writing skills. You can also design a report in line with business logic at any time, to meet the needs of report users and reduce the operating costs of the enterprise.
4.3 Enterprise Reporting For Web Reports
The financial situation of enterprises can be different through data extraction, data conversion, and data loading. The data is placed in the data warehouse, then the reporting tool is used to handle the data and generate the report, and finally, the content is sent by email or printed. However, reports are complex, flexible, and sometimes not easy to understand. For this reason, many organizations have adopted the design of web reporting tools to meet different design habits and reporting needs of users. The Web is a new Internet method. It generally promotes information exchange and collaboration between people on the Internet through Web Applications. Its model is more user­centric. The earliest concepts of the Web include static HTML pages that are frequently updated. The success of the com era relies on a more dynamic Web (referred to as "Web 1.5"), in which CMS (Content Management System) can generate dynamic HTML pages from an everchanging content database. Web reports have various advantages and flexible and multiple push methods. In simple terms, they are reports that allow users to view, edit, save and export online. To implement web reports, you need reporting tools such as
FineReport
that provide HTML5 charts, which can be used cross-platform, adaptive to web design, and support instant update
5. What the difference between Excel, BI software, and Reporting tools in reporting?
5.1 Excel VS Reporting Tools
Excel is still the most popular software that companies use it for making reports. But, people who often deal with reports know that it is very troublesome to use Excel as a 
reporting tool
. 
First, generating reports manually is easy to make errors and is time-consuming. 
Second, it's hard to detect problems in Excel in real-time. Once the data is wrong, the query in Excel takes a lot of time. But with reporting tools, you can understand the data information through simple queries with the widgets. 
Finally, Excel spreadsheets are presented in very few ways. Although some of the features of Excel spreadsheets are now much improved, they still lag behind reporting tools.
Click
here
to explore more similarities and difference between excel and reporting tool
5.2 BI Software VS Reporting Tools
There are many BI software with reporting capabilities. Many people confuse reporting software with BI software, but they are different.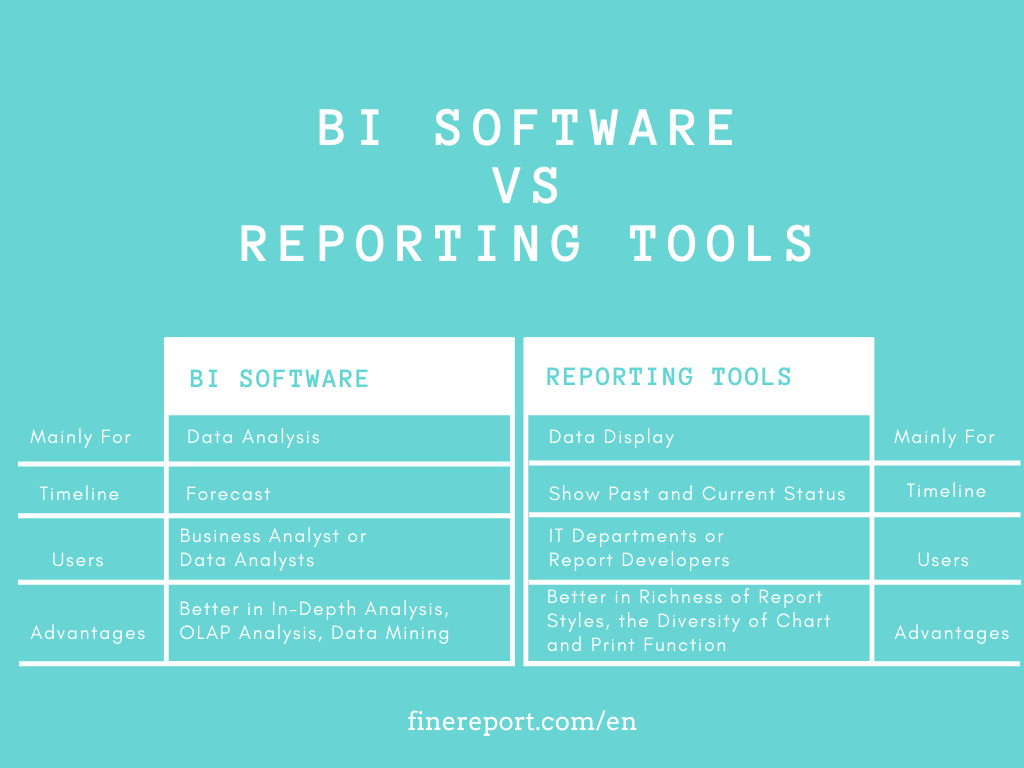 In conclusion, a reporting tool is mainly for data display, while a BI tool emphasizes data analysis. As mentioned above, reporting tools are primarily for IT departments or report developers. They use reporting software to make data reports and chart reports, as well as electronic invoices, process sheets, receipts, etc. These show you past and current status. 
Business intelligence software is primarily for business people and data analysts. The essence of BI software is 'data+business understanding'. 
The 'data' part is like the reporting software, which is statistics and presentation of data. 
'Business understanding' means realizing in-depth data analysis and smart data forecast, via BI functions such as OLAP analysis, data mining, and so on. It tells you why the statuses are the way they are, and how to improve performance moving forward. 
However, in terms of reports, BI software is weak in the richness of report styles, the diversity of chart and print function.
Take FineReport as an example. As reporting software, FineReport provides three types of reports: General Report, Aggregation Report, and Dashboard. Among them, the aggregation report allows users to drag&drop the aggregation blocks to create irregular reports. 
Besides, users can export or print the reports to different formats such as Excel, Word, and PDF. These particular functions make reporting tools distinctive in reporting.
6. How does Reporting Tool Work?
Business Intelligence developers and report writers to use reporting tools (such as Finereport Designer) to specify data sources, display formats, visualize data, query with parameter and so on.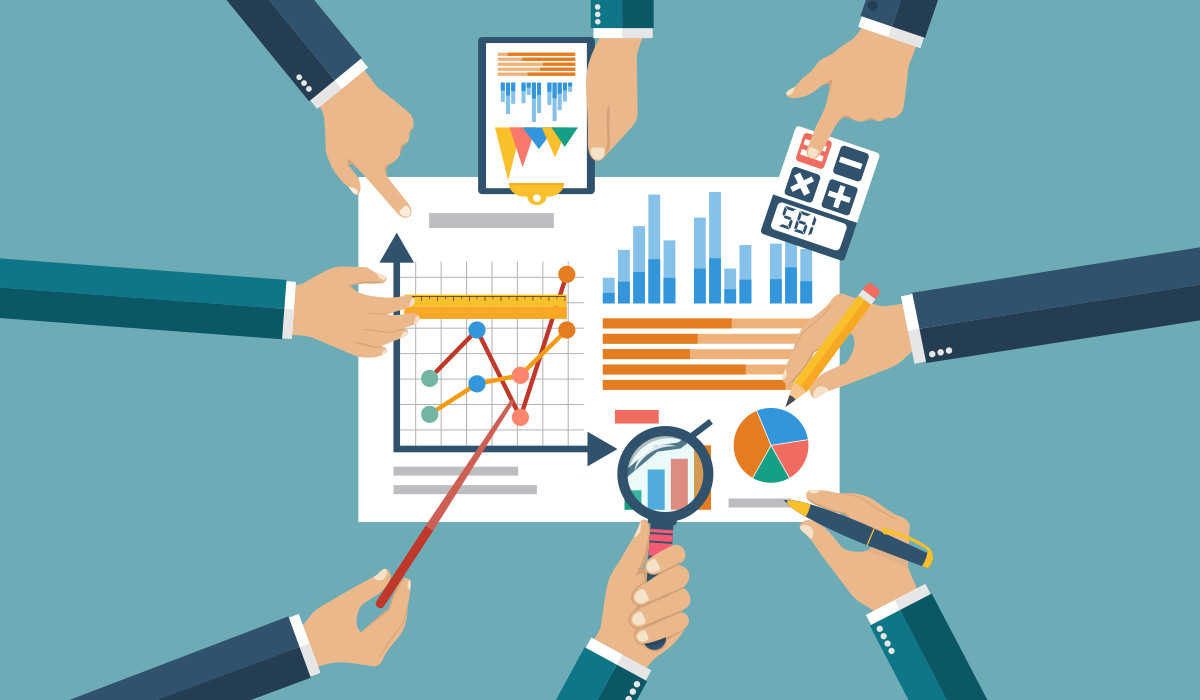 For example,
FineReport
server is mainly used to read and parse the template created by the designer and convert the template into an HTML page, so that users can view, modify and print data through browsers such as IE and Firefox. At the same time, a powerful caching mechanism and clustering mechanism are built-in, which supports large data volume calculations and concurrent processing of a large number of users, and innovatively adopts flash technology, which perfectly supports zero-client accurate printing.
7. Benefits of Using FineReport
Here are some additional benefits of using
FineReport
to embed reports into your application.

A simple drag-and-drop operation mode
1. One-click connection to the data source 2. Excel-like drag-and-drop mode 3. Quickly create a web report without additional learning or code knowledge.
Flexible data reporting design
1. General Report: for traditional lattice complex report 2. Aggregation Report: for irregular reports 3. Dashboard: for making dashboard Three unique types of reports allow you to design reports of various functional styles to meet the needs of various data analysis scenarios.
Cool visualization and interaction
1. 15 types of Self-developed charts 2. More than 50 chart styles 3. Smooth dynamic interactions and personalized chart configurations create a variety of cool visualizations.
FineReport supports data entry of massive data volume via the online forms.
1. Comprehensive data validation ensure the correctness of the data format
2. Massive data volume fill-in is supported by rich widgets 3. Intelligent data submission control satisfies customized submission requirements
An enterprise-class report management platform
1. Unified management of users, data, reports, and permissions with the help of FineReport's data decision system. 2. An enterprise-level reporting platform to complete data centralized management.
Perfect multi-screen application
1. Enterprise-wide data visualization management. 2. FineReport provides a one-stop solution for PC, mobile and large screen.
Flexible integration and deployment
1. Pure Java construction, easy to deploy in multiple ways 2. Flexible integration and invocation with other systems 3. Provide performance and risk control solutions 4. Easy to operate and maintain
Click here
to download FineReport for free use. And you can also follow
FineReport Reporting Software
on Facebook for more information!
You might also be interested in…
Top Database Reporting Tools You Can't-Miss (For Sql, Oracle and NoSQL)
2020's Best Excel Reporting Tool that Reaches Far beyond Excel