Top 5 BI tools of 2020: Comparison and How to decide
With business intelligence(BI) tools play a more critical role in the enterprises, the technology is poised for an oversized effect in the coming year. BI software assists businesses with data display and analytics to help companies discover the situations, market challenges, as well as the chance. Therefore, it is common for IT departments and managers to search for the BI tool best suited for their needs. And the BI tools comparison provides a guide for selection.
In this article, I compared the top 5 BI tools of 2019 based on the overall ease-of-use, BI features, and the price. In the end, after comparison, you will see which software is best suited for the needs of you and your company.
The Judging Process of Comparing the Top 5 BI tools  
Overall ease-of-use: 

How well designed is the user interface? Is it intuitive? How hard is it to get started with the tool? Do they have the training, tooltips, or videos to help you learn what you're doing?

BI Features: 

What the pros and cons you should pay attention to?

Price: 

How much does it cost? 
Tableau I

n-depth Review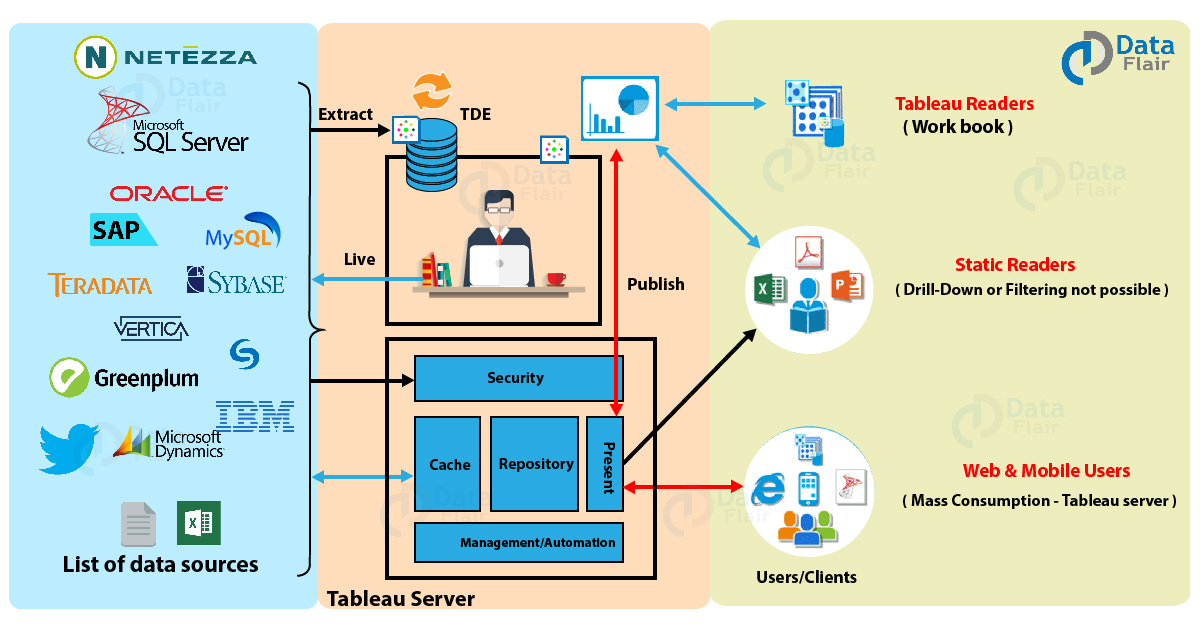 1. Overall ease-of-use
The tool's intuitive manner of creating graphics and a user-friendly interface enable lay users to utilize the basic app's functionality to the fullest. When designing a dashboard, you need to create a worksheet and then drag it to the container. For first-time users, it takes time to get used to it. 
However, in-general, non-technical users can enjoy the stats parsing capabilities without in-depth training. For more profound knowledge to get into the solution's capabilities, the Tableau community is an excellent place to go since Tableau's fans invest their expertise and skills into the community increases steadily, and they are willing to help settle any user issues and to share their experience. 
2. BI Features: pros & cons
Pro: Support Multiple Data Sources 
Relational database
NoSQL database
Multi-dimensional database
Big Data Platform 
File data sources (Execl,csv, txt, Json, pdf, mdb, Tableau)
Pro: Stunning Data Visualization 
Unparalleled capabilities of visualizing information are on top of the list of Tableau software benefits. Using unique visualization technology, we can quickly analyze data by expressing the analysis results using colors, shapes, and sizes. The development team is working on investigating what types of charts users prefer so that Tableau can display the best graphs for the data. The only disadvantage in this part is the meter, 3D graph, and heat map cannot be made.
Con: Poor BI Capabilities 
Compared to other BI tools, Tableau lacks functionality required for a comprehensive business intelligence tool, such as large-scale reporting, the building of data tables, and static layouts. Also, the formats of exporting and printing are limited, which is inconvenient for result sharing.
Tableau is almost closed that it is hard to customized or embedded into companies' IT landscape.
3. Price
The price is based on the number of users. Considering that the cost of a license is quite high for most small to medium companies, Tableau is primary the choice of large enterprises. 
FineReport I

n-depth Review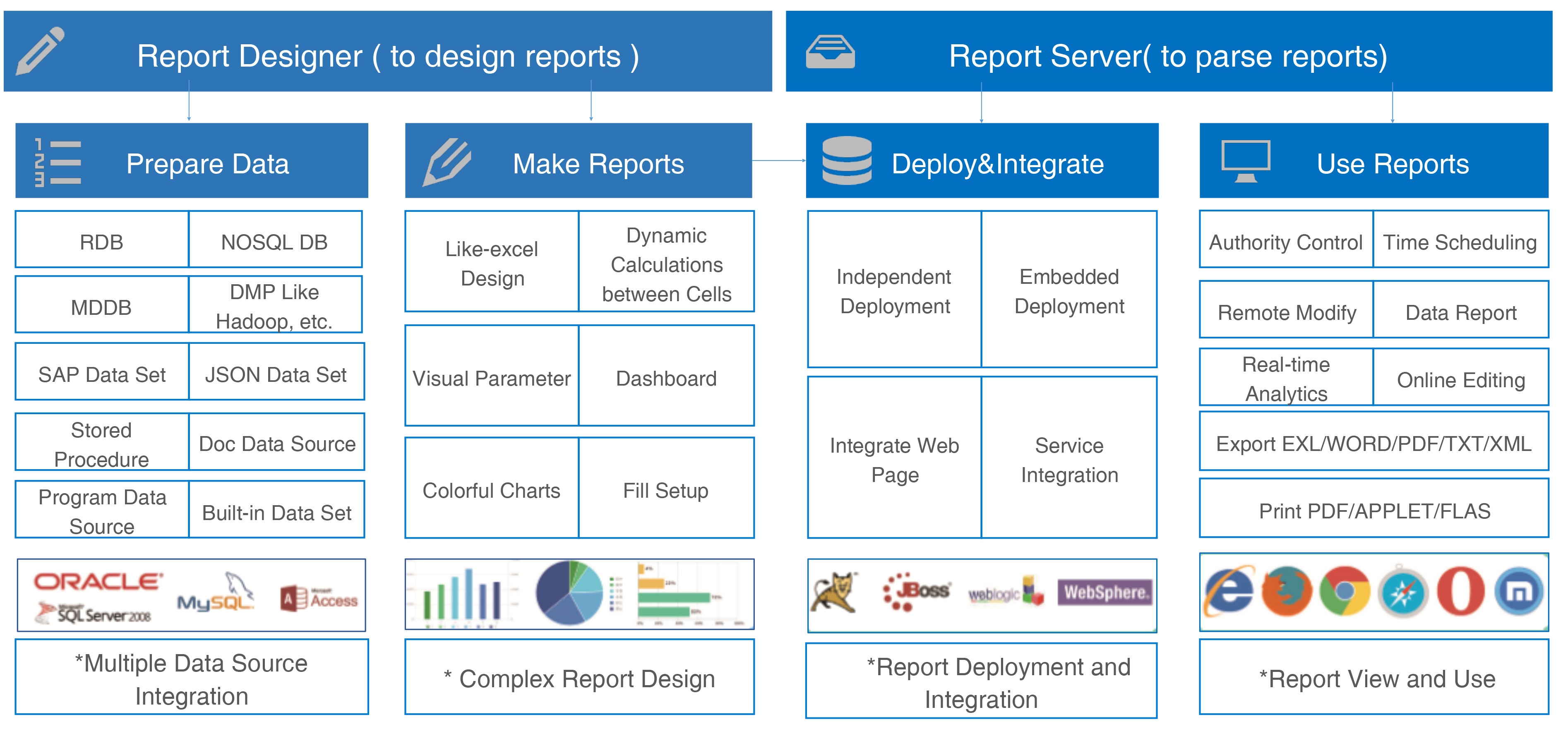 1. Overall ease-of-use
With the Excel-like interface and drag-and-drop elements, Finereport is easy for newbies to start. Anyone who used Excel before can be a fast learner of FineReport. The official website provides detailed teaching documents and videos for users. Plus, and more importantly, the technical support service is 24/7.
2. BI Features: Pros and Cons
Pro: Smart Data entry
Data entry is a distinct feature of FineReport. It provides rich controls that make it easy to input massive data via forms directly into databases, with thoughtful functions such as data validation and temporary storage. Besides, support import excel data online and in batches.
Pro: Easy to make complex reports
The capacity for dealing with complex reports is impressive. Free splicing together aggregation blocks, eliminating the trouble of frequently merging and splitting cells in Excel. Each aggregation block is independent; you can drag&drop and put them together freely to create irregular reports.
Con: Inconvenient Multi-dimensional analysis
You can set up multiple drill-downs and ups for one cell data, but you need to create a report for each dimension. 
Con: No recommend charts feature
Although FineReport provides a wealth of visual effects, charts, maps, 3D effects, it does not recommend charts according to the data. You should choose the charts by yourself. 
3. Price
FineReport is free for personal use, no time, and feature limits. For enterprises, it charges according to the function module and concurrent users. The price is between Tableau and PowerBI's.
Free Trial
PowerBI In-depth Review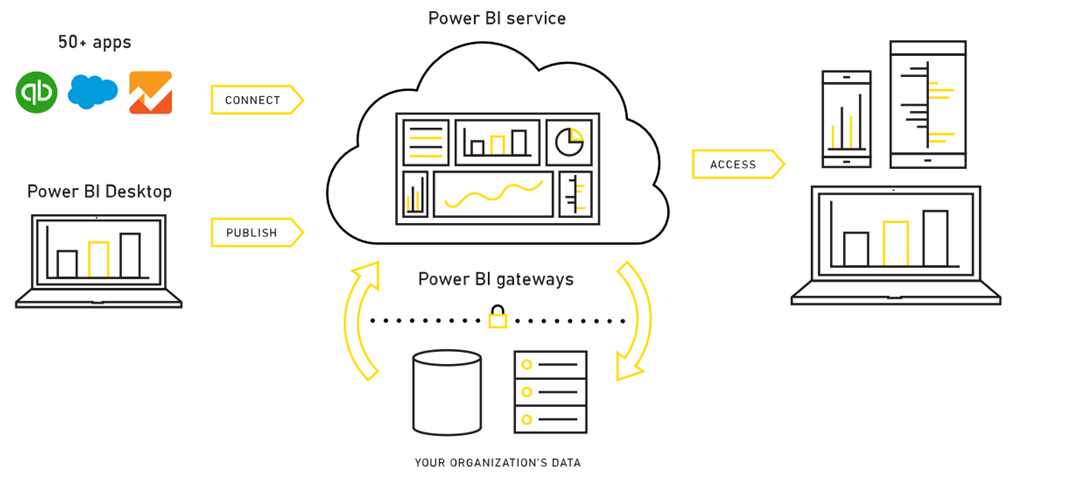 1. Overall ease-of-use
Since it is a BI tool developed by Microsoft, basically Excel pivot tables with Excel's data visualization tools taken to the next level, the UI of PowerBI is similar to Excel, and it allows for a short learning curve. It also provides detailed learning videos and documents for further learning.
2. BI Features: pros &cons
PowerBI can seamlessly connect to any Ms office. Also, with PowerBI, you can put the data in Excel where you can easily see the raw data behind the visualization.
Pro: R script visualization
PowerBI is the only one among the top5 BI tools that support R, which uses the rich analytics and visualization power of R to present advanced data shaping and analytics such as forecasting.
Con: Authority management issues
It is not enterprise-class control, so it does not support multi-level permission allocation, and it cannot control the permission granularity of column-level viewed by users, and there is no corresponding complete control strategy for group permission control.
Con: Poor data handling capacity for free versions
The free version has a limit on the amount of data it can deal with. Once the data amount hits 2GB, you have to upgrade to the paid version to reduce the processing time.  
3. Price
If you have a small budget and you are looking for an affordable option to go for the Power BI is the product you will be ending up with. It cost for the Pro version is available at $9.99/user/month, which is lower than similar products in its niche.
QlikView In-depth Review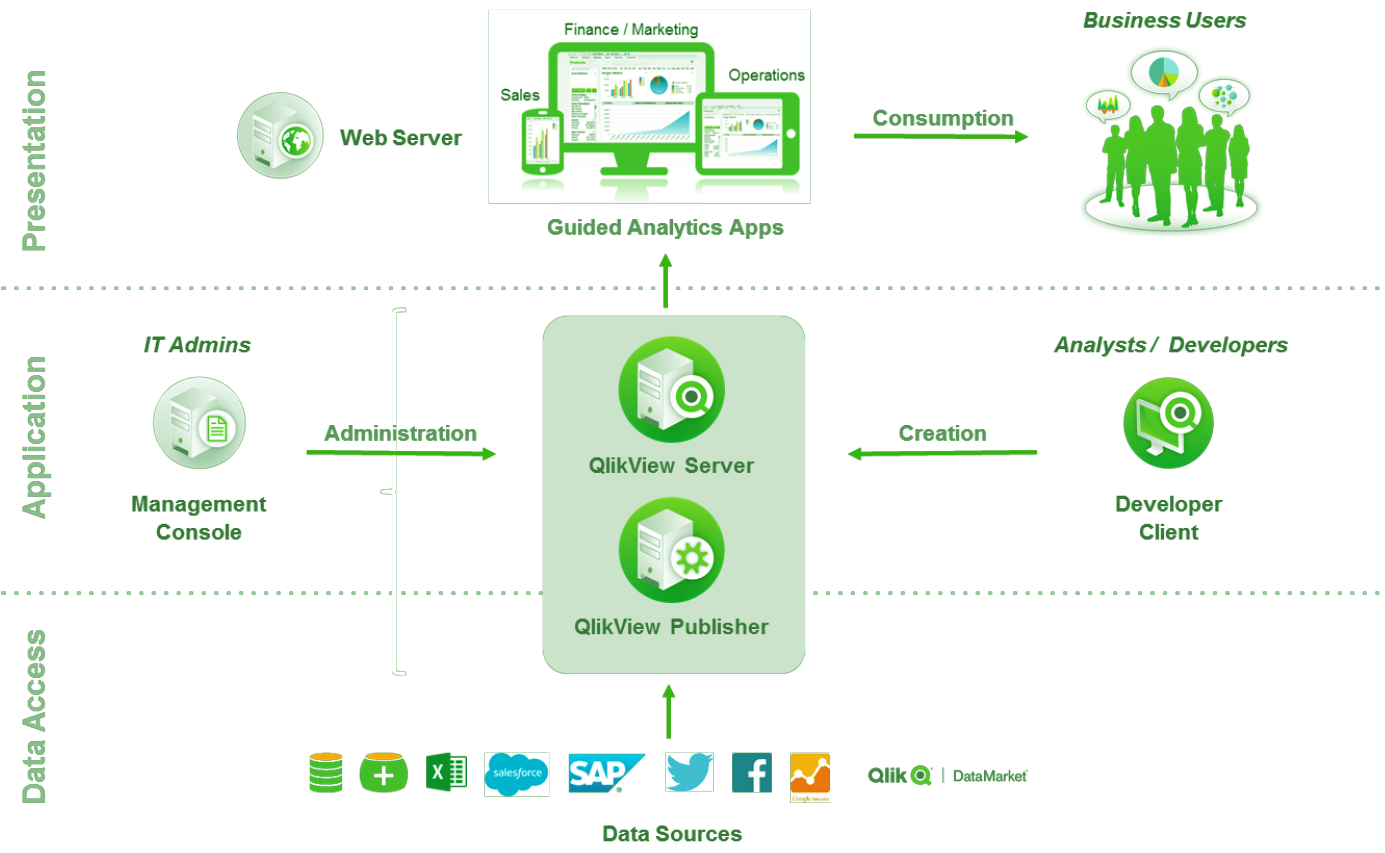 1. Overall ease-of-use
QlikView is a self-service BI tool that operates with its own "association technology" and in-memory technology. It has an intuitive interface that can be used intuitively and has a smart search function. It does not require cube construction and is more suitable for ad hoc analysis than routine analysis.
2. BI features: pros and cons
Pro: In-Memory Technology
 QlikView calculates the data while the data is being transferred from backend to frontend, thanks to its in-memory technology. Because no pre-aggregated or pre-calculated data is to stored beforehand, the memory of the system can be saved, and the speed in data delivery is fast.
Pro: Direct & Indirect Data Searched
In QlikView, you can search for both direct and indirect data. In a direct search, you can input that data and get your information. While in indirect search, you can input something related to your desired data and get all the related data.
Con: Not user-friendly for non-technical users
Data management should be more user-friendly. Right now, it is in the script editor. Someone with good knowledge of Relational Database can easily handle this, but a programmer knowledge is a must. End users or non-technical people may timid to start with QlikView as they will find it hard to start with.
Con: Not support map charts
Creating geographic mapping charts is pretty complex unless third-party add-ons are purchased.
3. Price:
Each private user on QlikView is $1,350, and concurrent users are $15,000. A server license is $35,000. Other services are available at an additional cost.
Sisense In-depth Review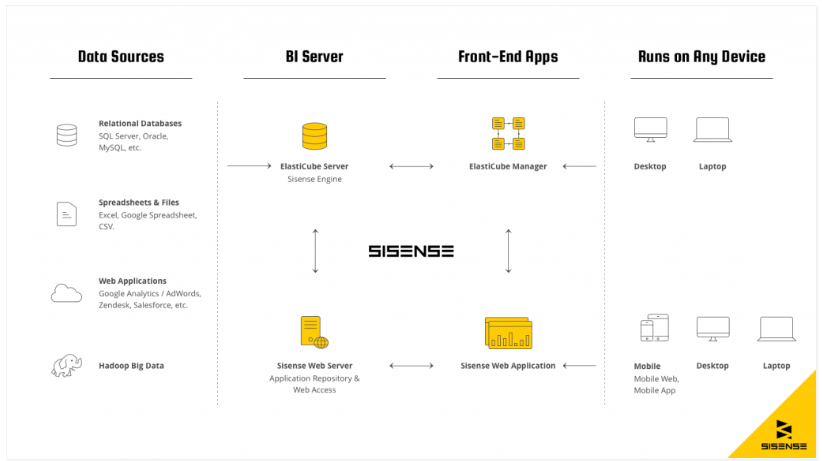 1. Overall ease-of-use
Like other market leaders of BI tools, the interface is intuitive that users can operate via drag-and-drop. Sisense also has an online community. Although users of Sisense's community are less active than Tableau's, the resources in that community are enough for newbies for deep learning.
2. BI features: pros & cons
 With the software's in-Chip engine, you can ask any question and get answers immediately without needing to go back to the drawing board for new queries.
Pro: Flexible integration
Sisense can smoothly integrate with popular third-party applications, including Google Adwords, Excel, Zendesk, and Salesforce.
Charts are limited. Also, out of the box visualizations and reporting features are a bit too basic compared to the market leaders 
Con: Inconvenient for team cooperation
Admins currently cannot edit each others' dashboards. Only the owner of folders and dashboards can publish any changes.
3. Price
Provide the free trial, the full version price is quote-based and need to contact vendors 
Which BI Software Is Best Satisfied My Needs?
So you've gone through these BI tools comparison; when you look at these top 5 BI tools, which comes out the best? You can see that this BI software all have positives and negatives. If you still aren't sure which software is better suited for the needs of you and your company, this may give you some advice on your decision.
Look at Tableau if you:
 Need for software that provides excellent data visualization.

 Have an adequate budget.

Want to do some business analysis by yourself with a drag-and-drop interface
Look at FineReport if you:
Need for reducing time in building complex reports in batches

Have requirements for flexible deployment and integration of BI tool

Want to display your dashboards on TV screens or large screens 
Look at PowerBI if you:
Are using MS Office and be familiar with Excel 

Have a small budget, and you are looking for an affordable option 

Value teamwork and the collaboration feature of the software
Look at QlikView if you:
Focus on ad-hoc analysis.

Deal with vast sets of data and have a high demand for data delivery speed

Master some basic knowledge of relational database and programming knowledge 
Look at Sisense if you:
Have to deal with big and disparate datasets

Have a high requirement for data processing speed

Are looking for a software that covers the full range of business analytics
You might also be interested in…
Top 10 Free and Open Source BI Tools in 2020
Reporting Tools: Everything You Need to Know