A Beginner's Guide to Business Dashboards
Speaking of the dashboard, you may think of the instrument panel of an airplane or a car dashboard, where drivers monitor the major functions at a glance via the instrument cluster. In the field of business intelligence, business dashboards have a similar role. They use
data visualizations
to show indicators and implementation of key business operations at any time, helping managers make scientific decisions.
1. What Is a Business Dashboard?
A business dashboard is a graphical display of various indicators, reflecting the operating status of the enterprise in real time and visualizing the collected data.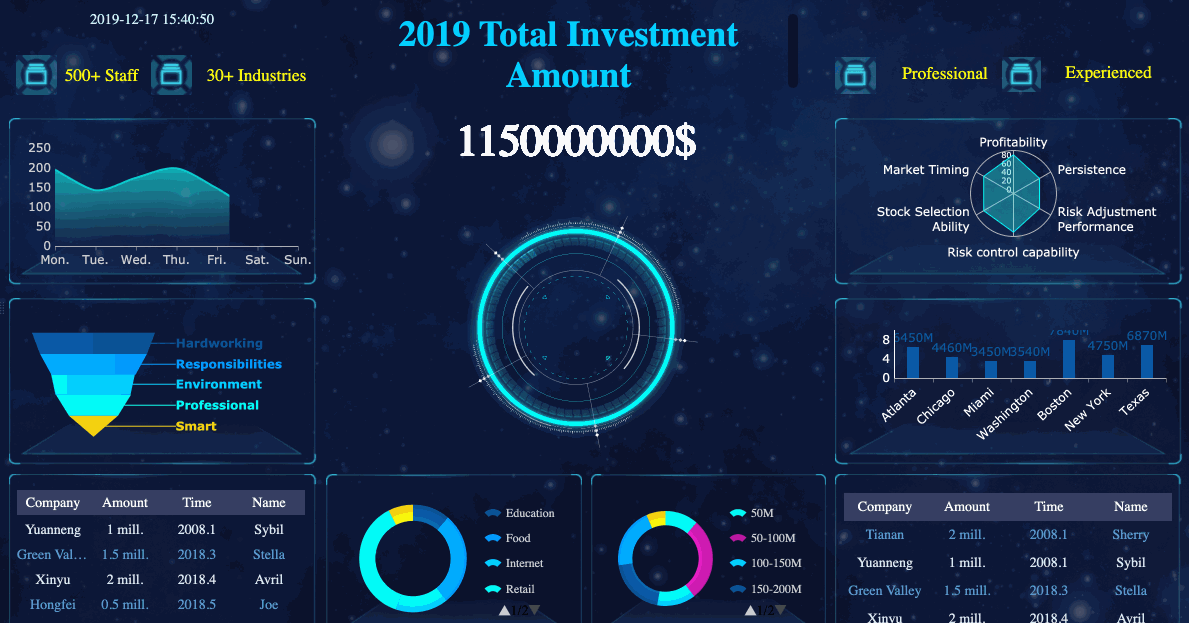 Download Now
To put it simply, business managers can see all the important data they need to make decisions on the business dashboard. Just like the dashboard of an airplane, it displays the key performance indicators of the company's operation through various common charts (speedometer, volume column, early warning radar, radar ball, etc.), so that managers can intuitively monitor business operations, and conduct early warning and data mining analysis of abnormal indicators.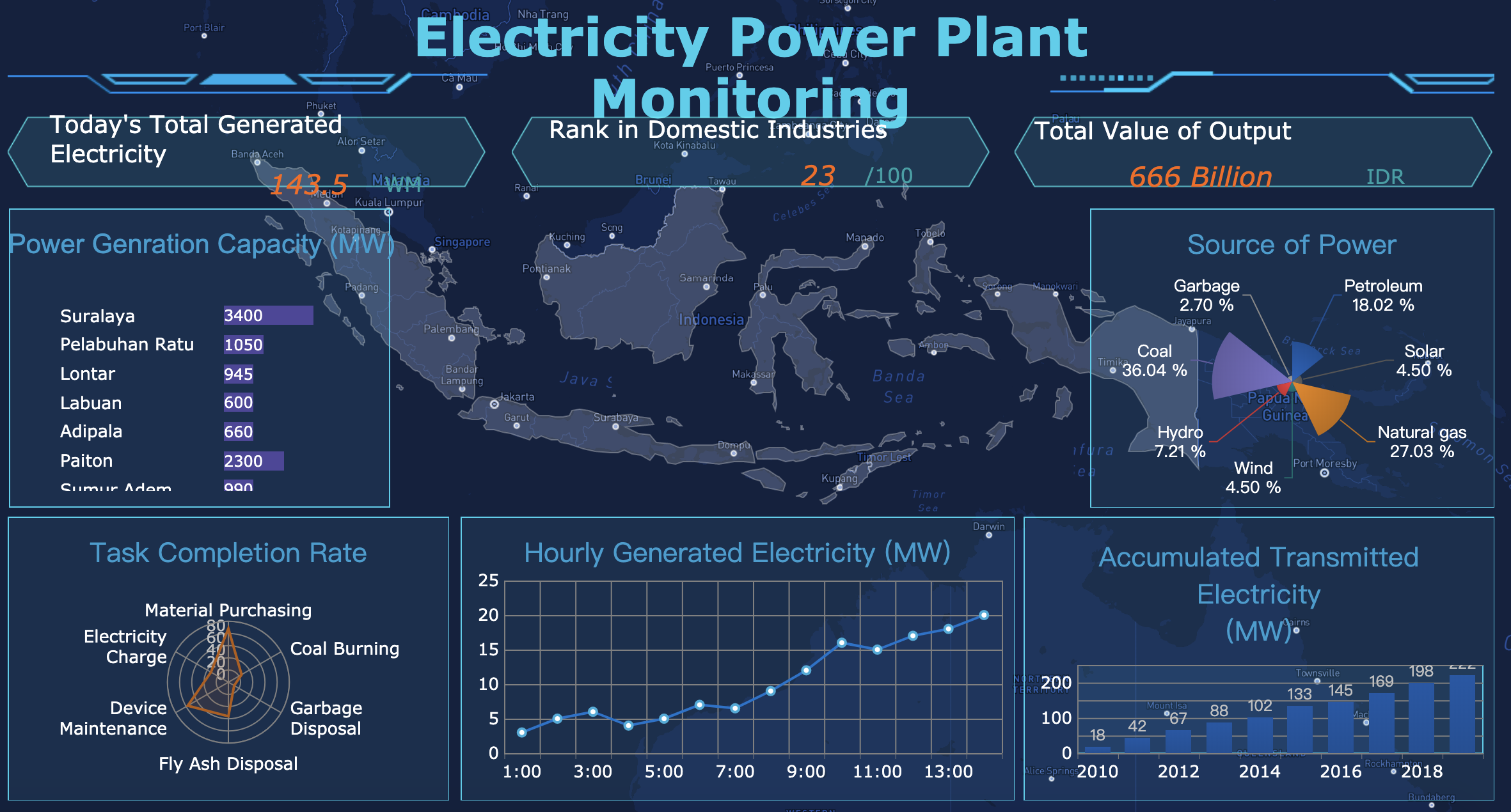 Download Now
2. Features of Business Dashboards
Thus, it can be seen that the business dashboard should have the following features:
Rich indicator system
Intuitive display system
Timeliness and authenticity of the data
Complete system architecture
3. Types of Business Dashboards
So how do we plan the business dashboard? Generally, the display of dashboard has a specific theme or classification. From a strategic point of view, there are three types of business dashboards from top to bottom: strategic dashboard, analytical dashboard, and operational dashboard.
3.1 Strategic Dashboard
The role of the strategic dashboard is to 
allow users to quickly grasp the operations of the company, and to make decisions based on this, to summarize the past or to formulate strategic goals for the future
. The operations here are mainly those that have happened in the past. Therefore, the strategic dashboard does not require real-time data display, but a simple visual display of mission-critical information. These simple and intuitive information helps managers quickly make decisions and locate and diagnose problems in bad operations. The strategic dashboard can help managers to report results at any time, so that departments and companies can work toward the goal in the right direction. It is similar to the cockpit tools of cars and airplanes, which make managers to clearly know at any time what steps they are taking in the businesses they drive.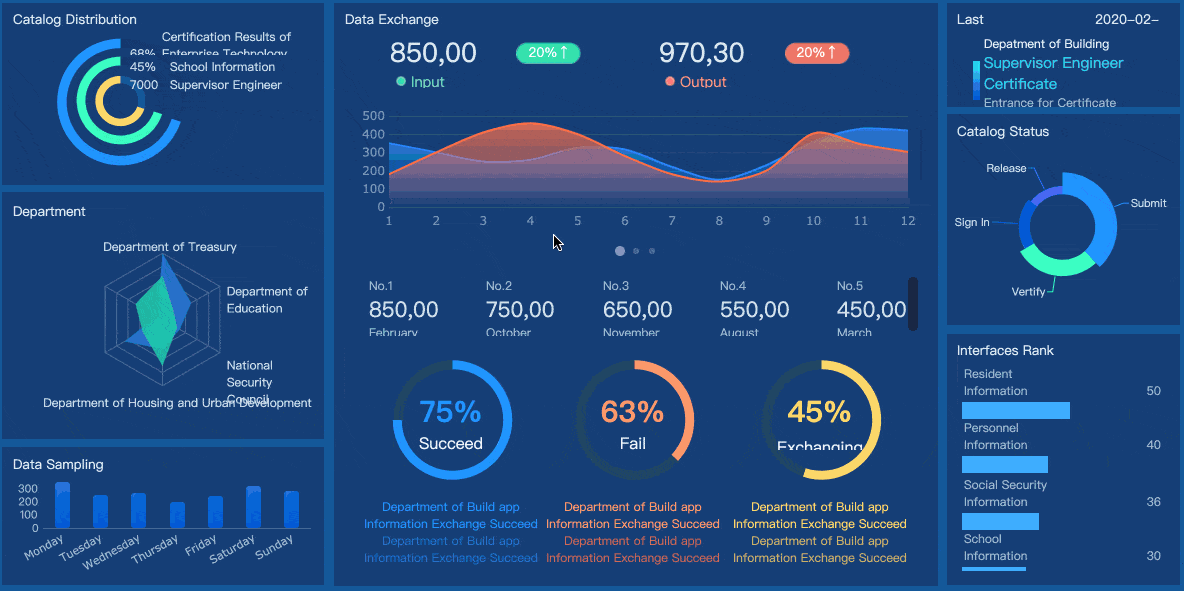 Download Now
3.2 Analytical Dashboard
Through the analytical dashboard, managers can not only see the surface information, but also investigate the causes of surface phenomena. Through 
data drilling, linkage, filtering
, etc., we can start from the phenomenon and find the cause along the data context. For example, why is the sales performance decreasing and what is the reason for the long payment time? 
Analytical dashboards are more of a service to middle-level managers, who implement strategies to tactical execution.
Therefore, the design of the dashboard needs to directly reflect the problems, and sort them in order, and correlate the actions to be taken. The analytical dashboard can be either strategic or operational. The main difference lies in the level of information. It contains a comparison of time-based details between multiple factors and variables.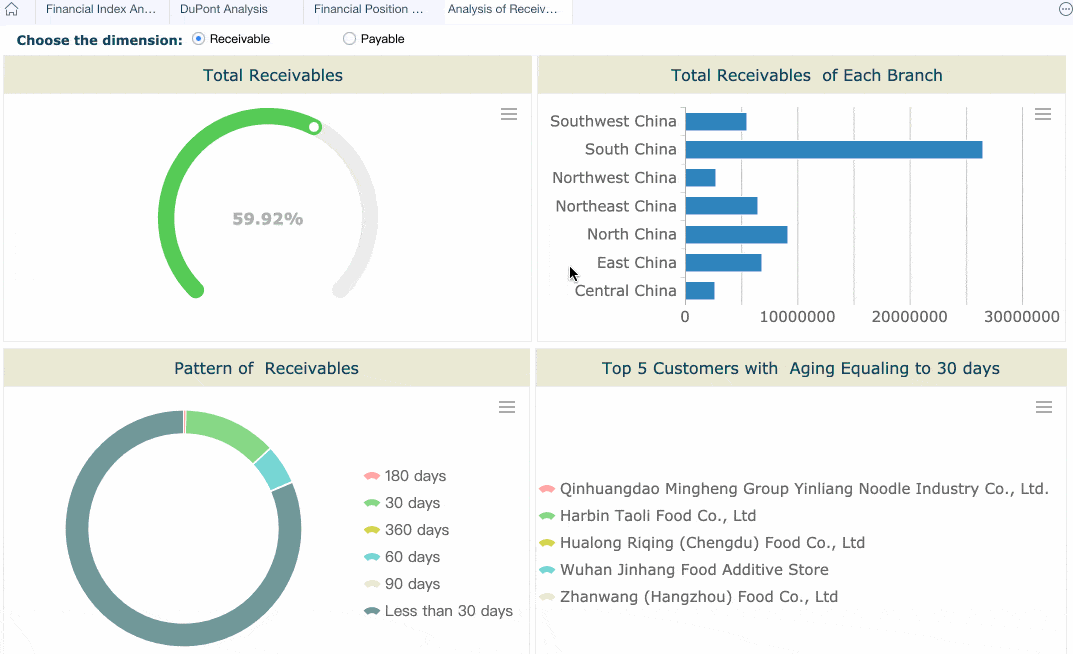 Download Now
3.3 Operational Dashboard
The operational dashboard 
emphasizes continuous and real-time information reporting
, so the timeliness of the data on it is relatively high. It is used to monitor daily progress and output to ensure that the expected plan matches the actual performance achieved, that is, to ensure that the strategic goals are broken down into tasks for each day. Such a dashboard allows us to resolve problems in a timely manner before they turn into thorny big risks and helps to incrementally improve performance. The design of the operational dashboard needs to start from the business needs, to achieve the reminding, monitoring and early warning functions of business operations. •
KPI monitoring
: The monitoring of key performance indicators can ensure that we control the overall operation. Operational dashboards show core indicators in the areas of business, risk and performance in front of monitors through graphics, tables, etc. •
Threshold warning
: Another factor that is accompanied by KPI monitoring is necessarily the early warning factor. Alarms can be issued by background highlighting with eye-catching colors (like red, green, blue), tachometers, etc. •
Real-time data monitoring
: The dashboard of some industries requires real-time monitoring of key indicators, such as exchange volume monitoring, flight monitoring, and subway line operation monitoring.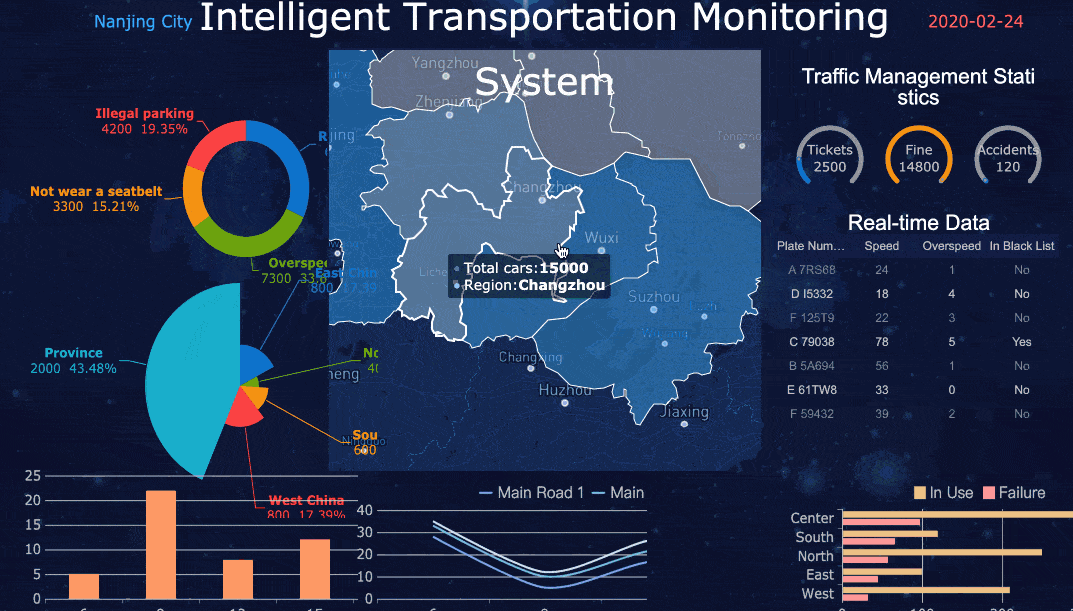 Download Now
4. Business Dashboard Templates 
There are different templates of business dashboards for different industries and roles. The key information that managers at different levels focus on is different. Sales executives focus on sales management dashboard, and finance executives focus on capital operations dashboard. From the perspective of industries, the design of dashboards for manufacturing, retail, transportation, government organizations, telecommunications, and catering industries is also different.
FineReport
 Demo provides a variety of common analysis ideas and templates. It can instantly access enterprise data according to different industries, different roles and different scenarios. You can learn from the best data analysis practices in the industry, and quickly build a business dashboard.
Education Industry Template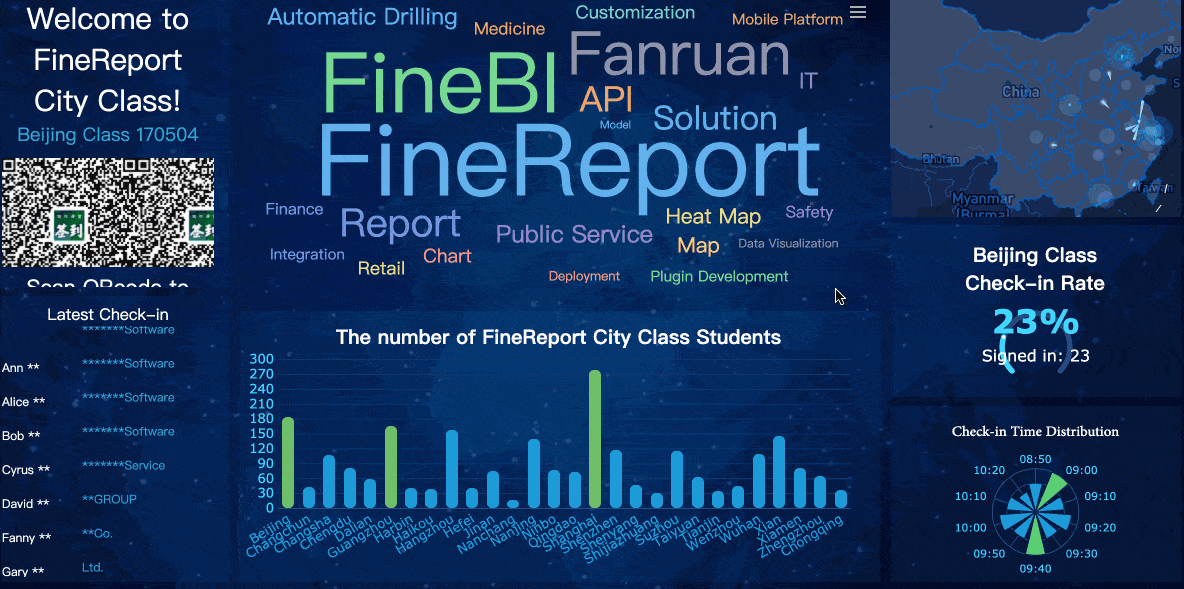 Download Now
Financial Theme Template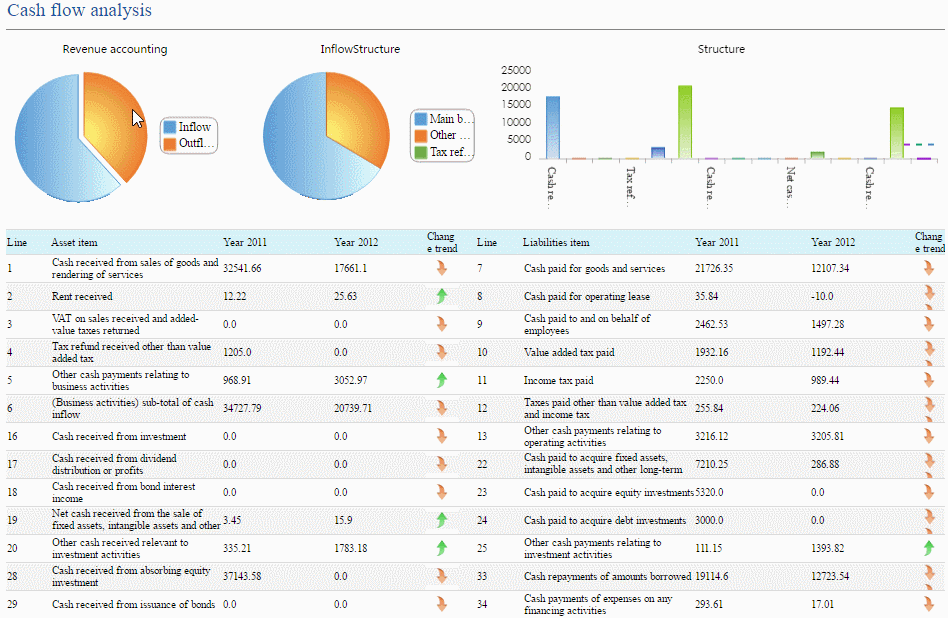 Download Now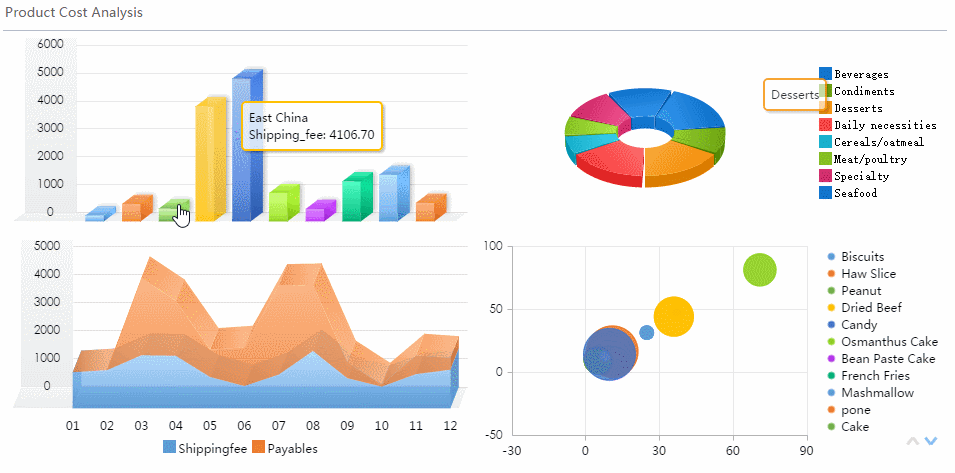 Download Now
At Last
If you want to learn to make a business dashboard, 
this guide to the design of data visualization dashboards 
is a good reference. And you'd better use an easy-to-use tool like 
FineReport
. Its personal version is completely free. You can download
here
to view more business dashboard templates!

Follow FineReport Reporting Software on Facebook to learn more about business dashboards!
You might also be interested in…
How Can Beginners Design Cool Data Visualizations?
25 Chart Effects That Make Your Data Visualization Advanced
How to Design a Great Dashboard?