Top 10 Graph Makers You Can't Miss in 2020
Graph makers are important techniques to visualize the data.
I listed 10 BEST Graph Makers for you as a reference. Welcome to take full advantage of it!
1.FineReport
FineReport is a data visualization tool for making graphs, reports, and dashboards. You can easily create basic charts such as pie charts, bar charts, as well as advanced charts such as scatter, bubble, funnel, radar, and Gantt charts. Besides, FineReport provides stunning maps. It not only supports flow maps, heat maps, and customized maps but also works well with GIS maps such as Google. Dynamic effects such as 3D maps, auto-rotating maps will bring more fun to your maps. 
FineReport supports various types of data sources, including Excel. You can import your data from Excel to FineReport in batches. The graphs can be exported to Excel, PDF, PNG, etc,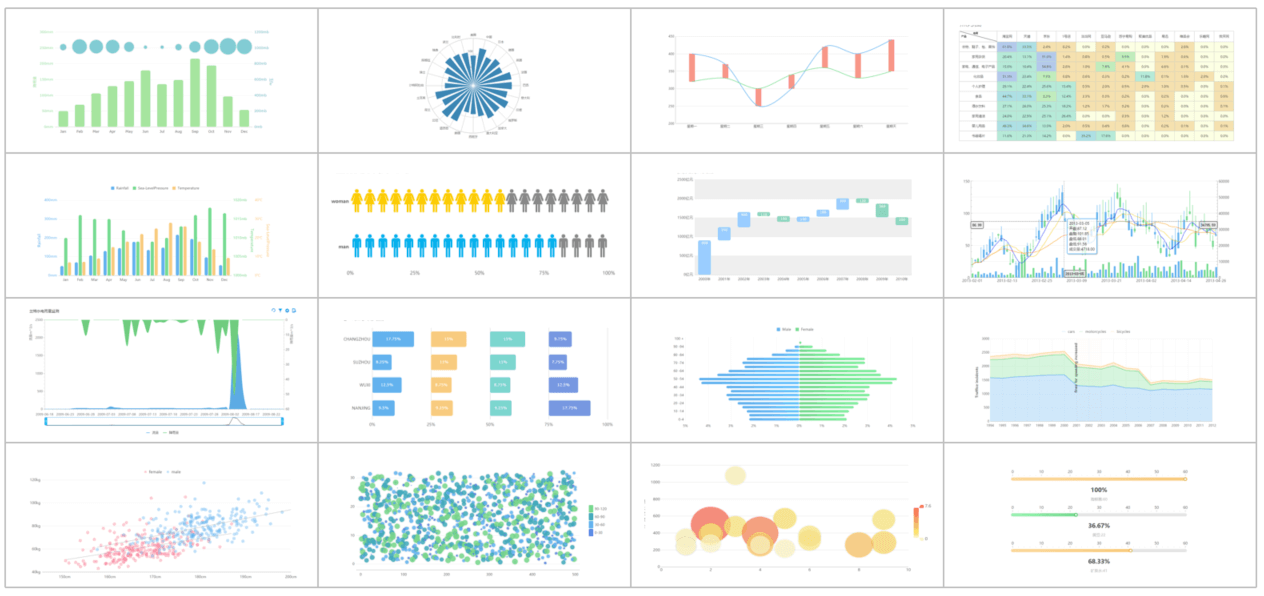 2.Chartblocks
Chartblocks is an online graph builder that lets you design charts by importing data from spreadsheets, databases via APIs. Or you can type it in manually. Graphs can be output into SVG, PNG, and PDF. 
The graphs can adapt to any screen size and devices because of the power of D3.js. You can also embed charts on web pages and share them on Twitter and Facebook.
On the downside, the data volume that can be uploaded to the site is limited, and there are not many types of graphs.
Chartblocks offers a free personal plan, a $ 20 / month professional plan, and a $ 65 / month elite plan. In the free plan, you can create up to 50 graphs.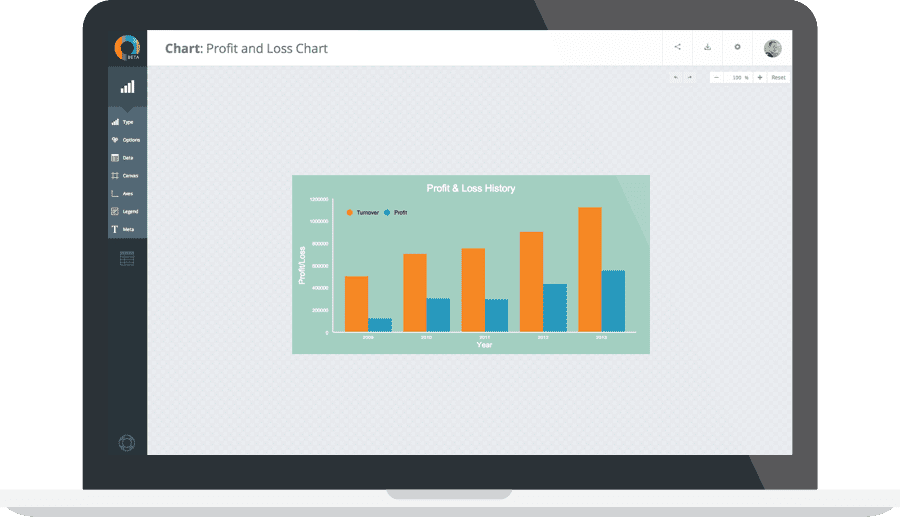 3.RawGraphs
RAWGraphs is an open-source data visualization framework developed to enable anyone to express complex data visually easily. You can create graphs from Excel, Google Spreadsheets, TextEdit, and other data sources. I will recommend you to try it if you want to visualize the data form delimiter-separated values such as CSV and tsv files. If you are familiar with programming, you can not only select from the prepared graphs but also develop highly customizable charts.
RAW Graphs is a completely free site for you to make graphs. 
4.PowerBI
PowerBI is a data visualization tool developed by Microsoft (needs installation). Compared to Excel, there are more types of charts, and the charts are more attractive. It features a sophisticated UI consistent with the Microsoft office products. You can connect to Excel, CSV, and various SaaS databases. 
The drawback is only PDF and PowerBI .pbix files can be output.
The free version doesn't support share charts with other accounts and requires a paid Pro or Premium upgrade.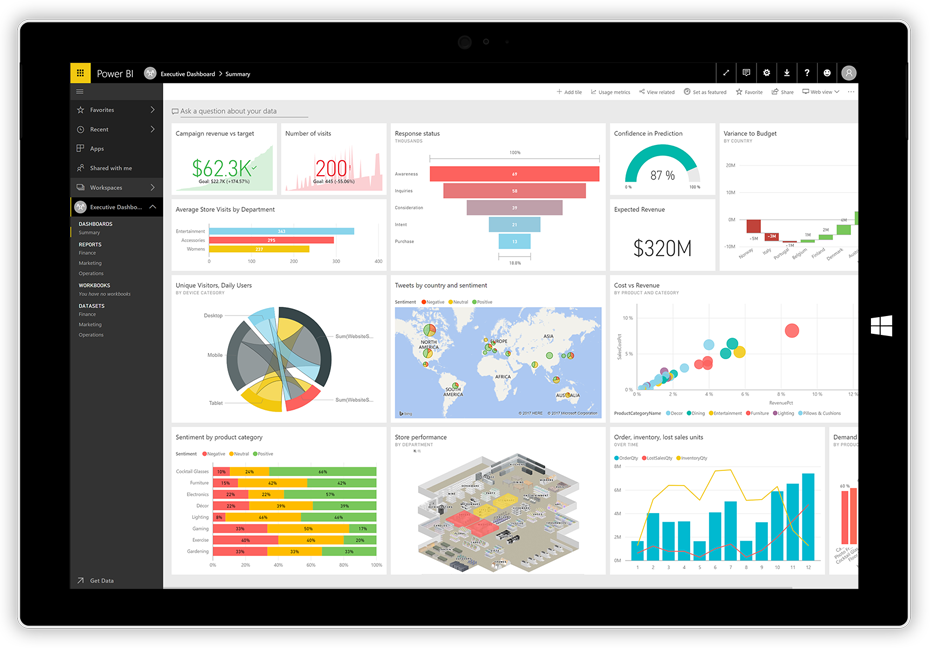 5.Canva
Canva is famous for its SNS images and infographic design, but it is often used as a graph making site. Canva is better for those amateurs who want to make impressive graphs rather than professional designers. With more than 20 charts and templates, you can create simple graphs. The charts can be saved as PNG, JPG and PDF, and printed from web pages. Besides, it is easy for you to share it with other users and upload it to SNS.
After upgrading to the Canva Pro, millions of exclusive photos, graphics, templates, and fonts are available.
6.Visme
Visme is a site for creating infographics, similar to Canva, but with better charting features. In the Visme editor, you can create basic graphs such as bar graphs, line graphs, and scatter graphs. When you upgrade to the paid version, you can use premium charts such as funnel, radar charts, area charts, etc. It also has a map function.
Besides, there are many sharing functions. You can share your infographic online, post on social media such as Twitter, Facebook, Pinterest, Linkedin. It also supports embedding the infographics on sites and blogs. 
However, in the free version, the output format is limited to JPG.
The good thing is teachers, students, and non-profit organizations can get a discount on the paid version.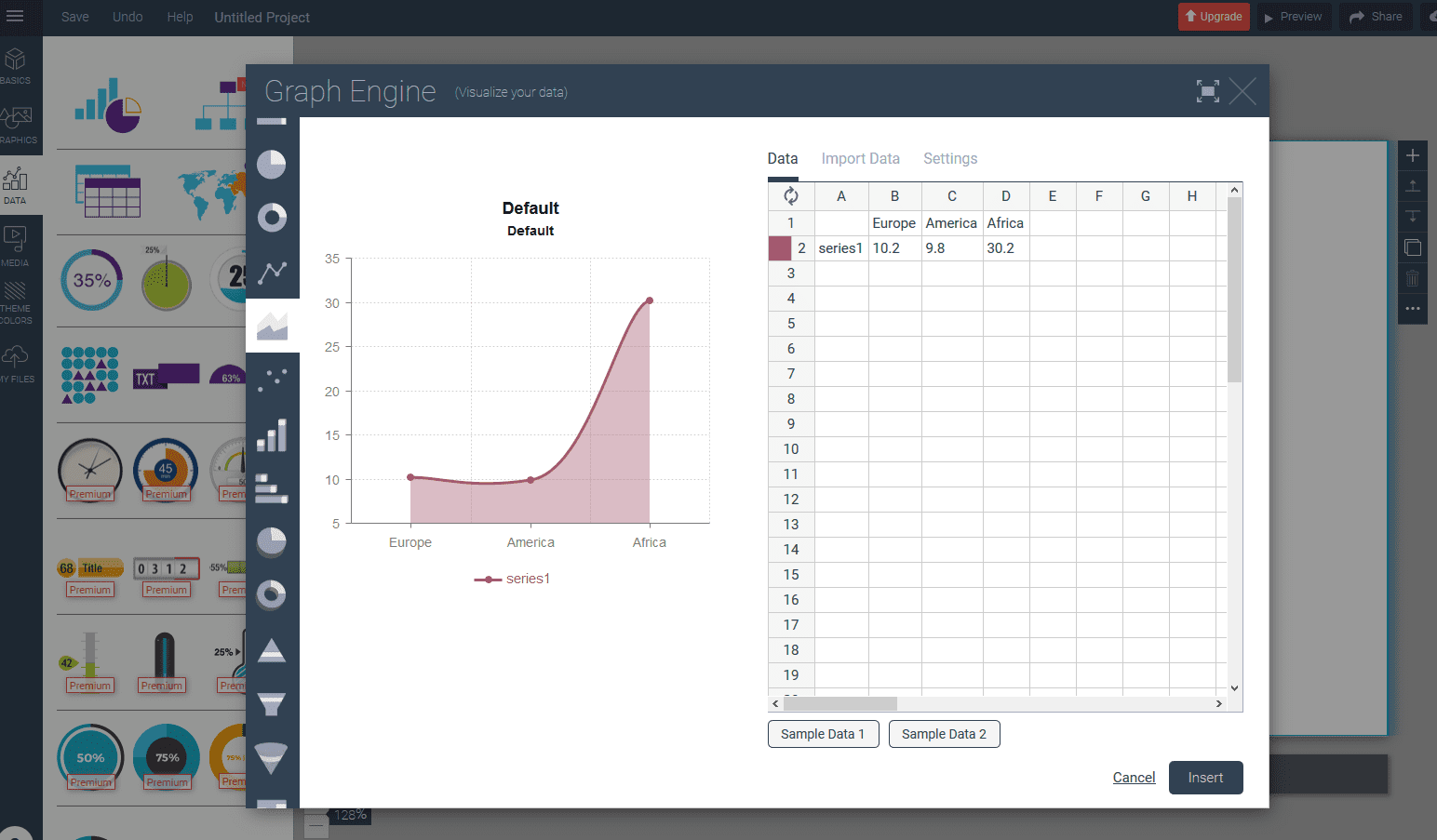 7.Livegap
Livegap is an entirely free site for graph making. You don't need to install it, and you can start creating graphs without registering.
It features a simple UI with three panels. These three panels are respectively used for displaying charts, setting styles, and inputting data. The change of data is reflected in the graph in real-time. In addition to entering data manually, you can also copy it from excel or any spreadsheet. The graphs can be downloaded as a PNG or HTML format and saved online if registered.
Livegap does a unique design even for simple graphs, and the types of graphs are updated continuously.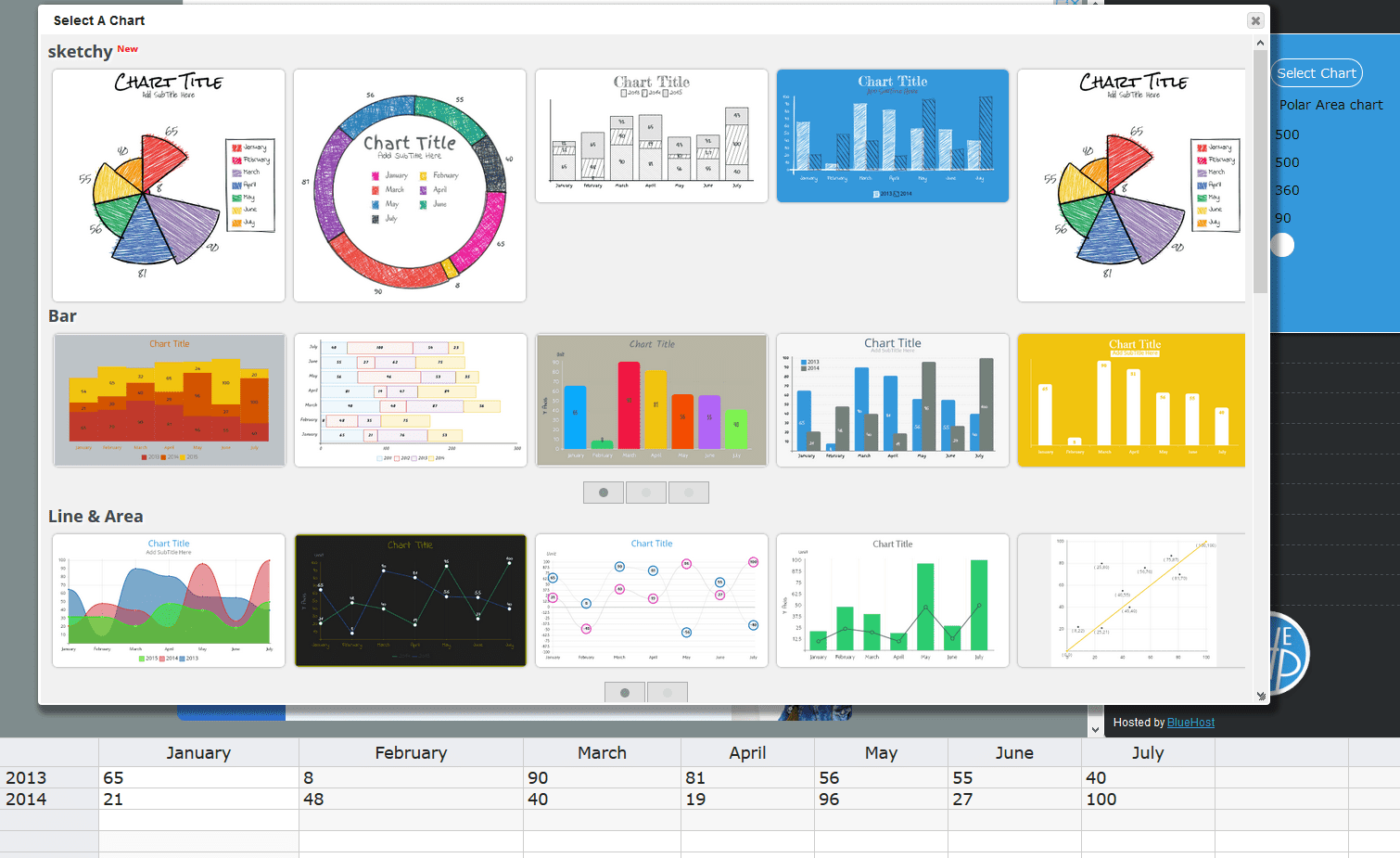 8.Adobe Spark graph maker
It is a free graph creation site under "Adobe Spark," which belongs to Adobe company that developed PS and AI.
Unlike PS ad AI, Adobe Spark is designed for non-designers. You can create only four types: circle, bar, line, and donut chart, but it is easy to pick a color scheme. Enter the data, select the graph and color scheme; then, you will see a highly designed graph. You can save your chart to print, share, or import into another project.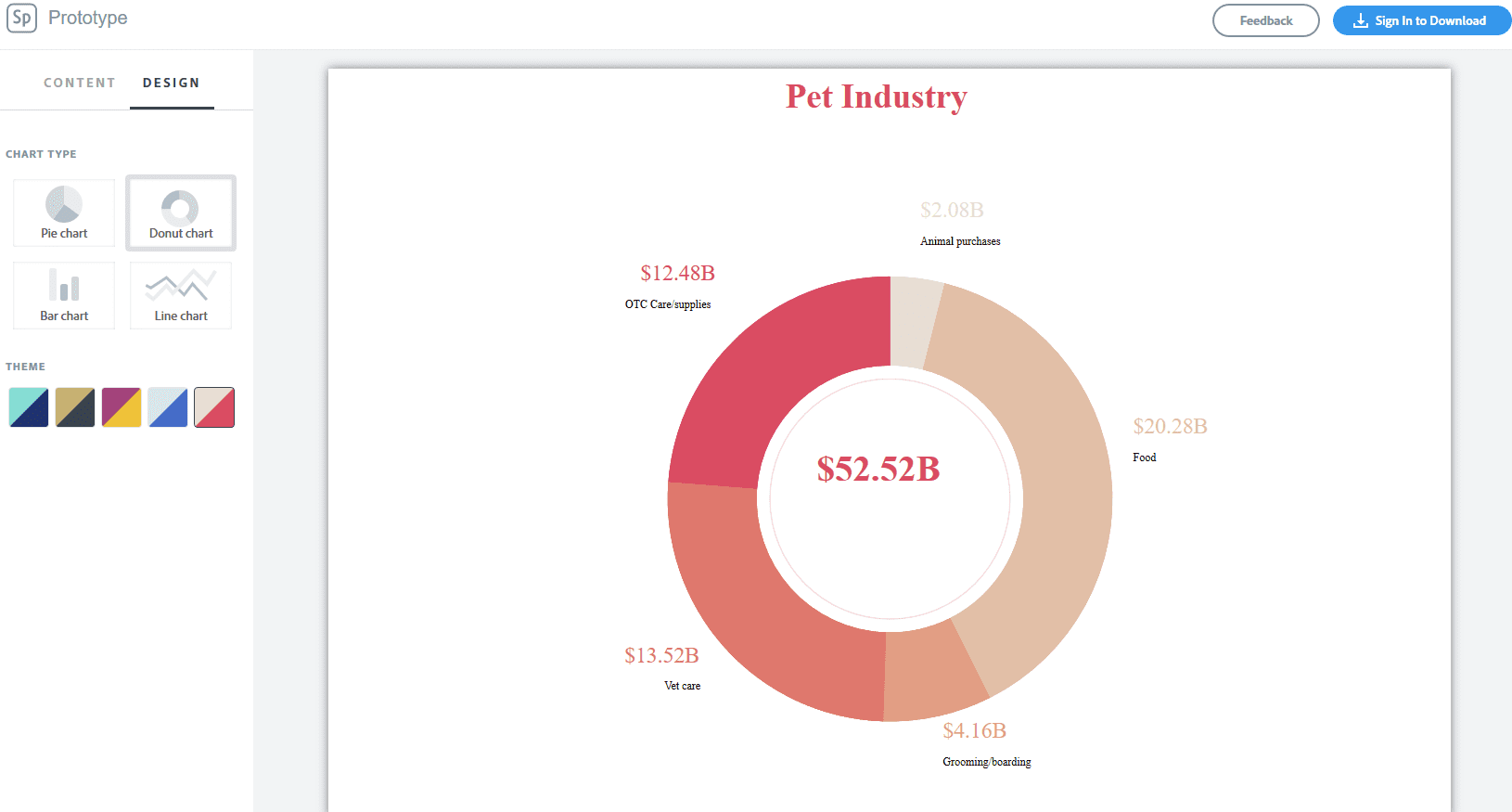 9.Big Crunch 
Big Crunch is a new platform that offers traceability and transparency for all the world's data. Similar to LiveGap, the graph editing interface has three panels. And it is divided into graph display, graph selection, and graph setting. The data sources can be imported from Excel, Google Sheet, or copied directly. You can also link to online data sources. 
Big Crunch supports sharing graphs via email, Facebook, Twitter, Whatsapp, Reddit, and so on.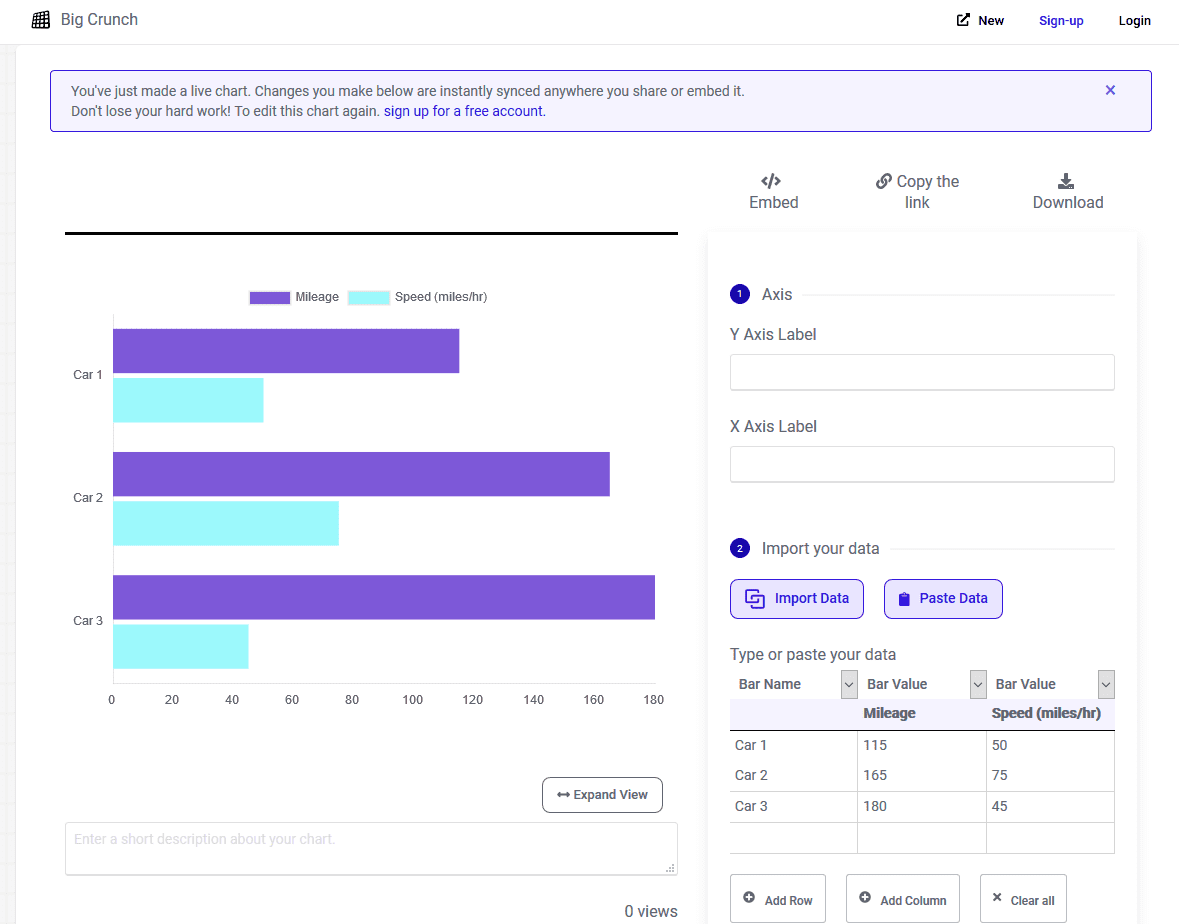 10.infogram
Infogram is an intuitive graph maker that empowers people and teams to create beautiful content. Infographics, reports, slides dashboards, maps, and social media visuals are available.
infogram supports many data sources. You can import data from Google Drive, Dropbox, Google Analytics. And you can connect to databases like MySQL, SQL Server.
The paid version supports saving graphs in formats such as PNG, JPEG, PDF, and SVG, while the free version only supports share graphs on SNS. Both the free and paid versions allow you to create interactive graphs. The paid version includes a $ 19 / month professional, $ 67 / month business, $ 149 / month team, and enterprise version (quote based).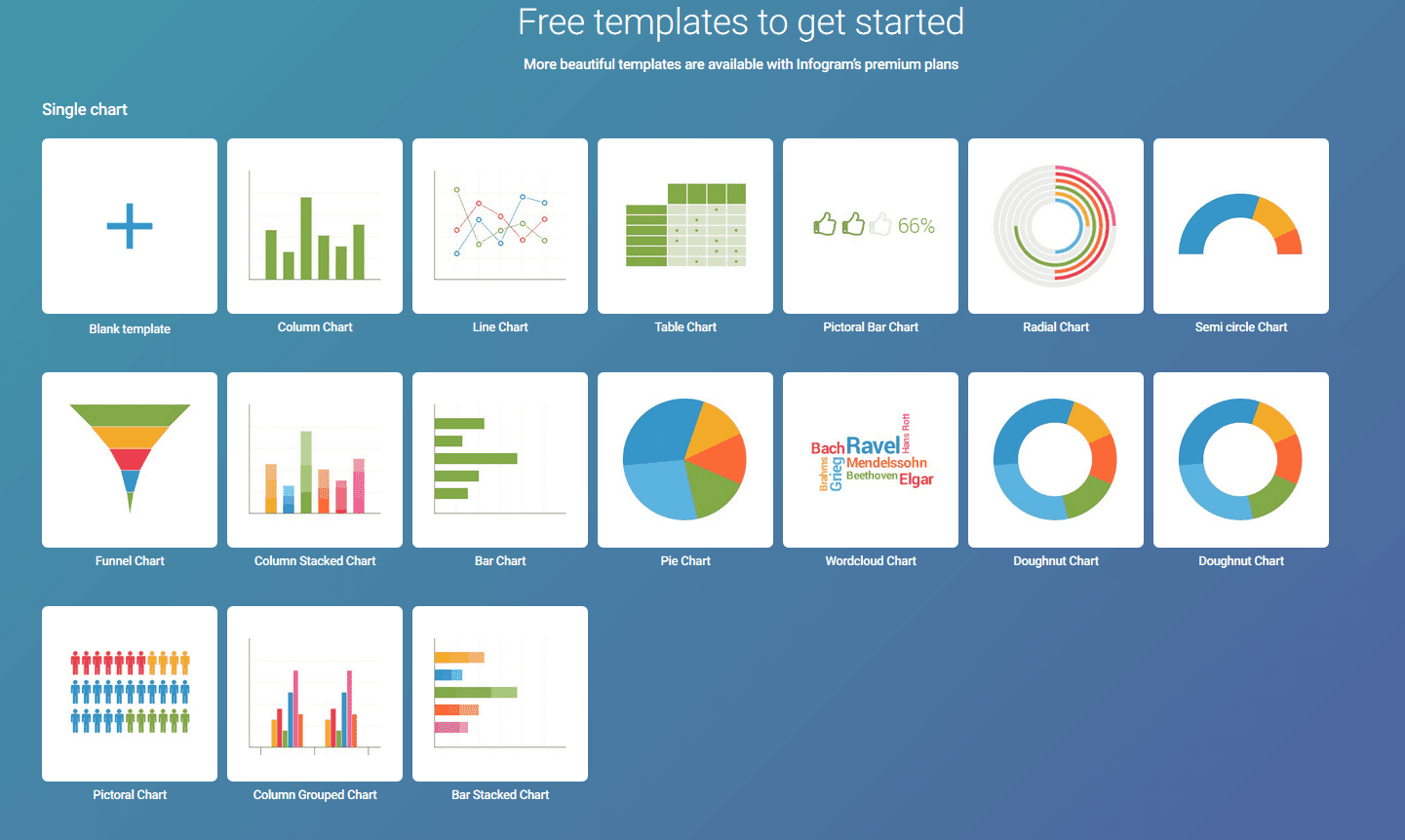 You might also be interested in…
How Can Beginners Design Cool Data Visualizations?
25 Chart Effects That Make Your Data Visualization Advanced
Compare 6 Types and 14 Data Visualization Tools (Updated 2020)