FineReport vs Tableau: why can FineReport occupy China's BI market?
Recently, many people have asked me about the difference between Tableau and FineReport, so I think it is necessary to make a comparison fairly and objectively. First of all, we must never assume that we grade two companies under an absolute measure and evaluate which one is better or worse. Because the product that suits you best is the best product. Different products are suitable for different types of companies, or different stages of the same company, or they serve different business scenarios of the same type of customers.
Therefore, today I will compare the two companies from the product line, product positioning, situation of Chinese enterprises, and product roadmap, to analyze the reasons why FineReport can occupy China's BI market.
1. Company & Product Line
It is undoubted that FineReport is the most competitive enterprise in China's BI field. In the latest report "IDC China Business Intelligence Software Market Tracker, 2018", FineReport Software Co.,Ltd. beats SAP again and ranks first with a market share of 14.88%, continuing its market position in 2017. And it is the only Chinese manufacturer to be selected into Gartner Market Guide for Traditional Enterprise Reporting Platforms.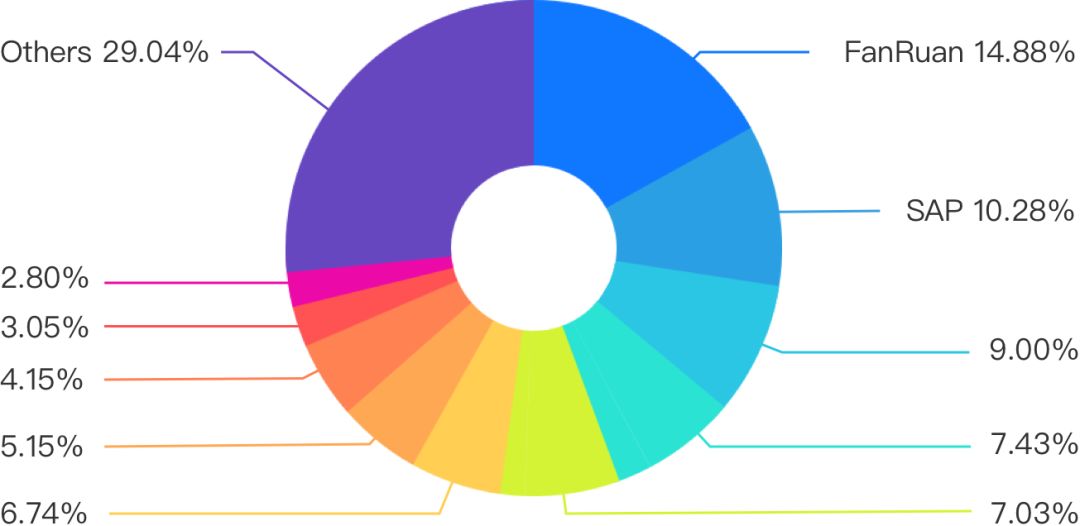 FineReport Software was established in China in 2006. It has more than 1,000 employees and has cooperated with over 8400 world and China Top 500 customers and organizations. The company advocates providing a one-stop big data BI solution for different stages of enterprise development. It has five main product lines: enterprise-level reporting tool –FineReport, BI tools for self-service big data analysis –FineBI, platform dedicated to mobile data analysis –FineMobile, large-screen data visualization solutions focused on decision-making, and powerful and easy-to-use cloud application building tool –Jian Daoyun.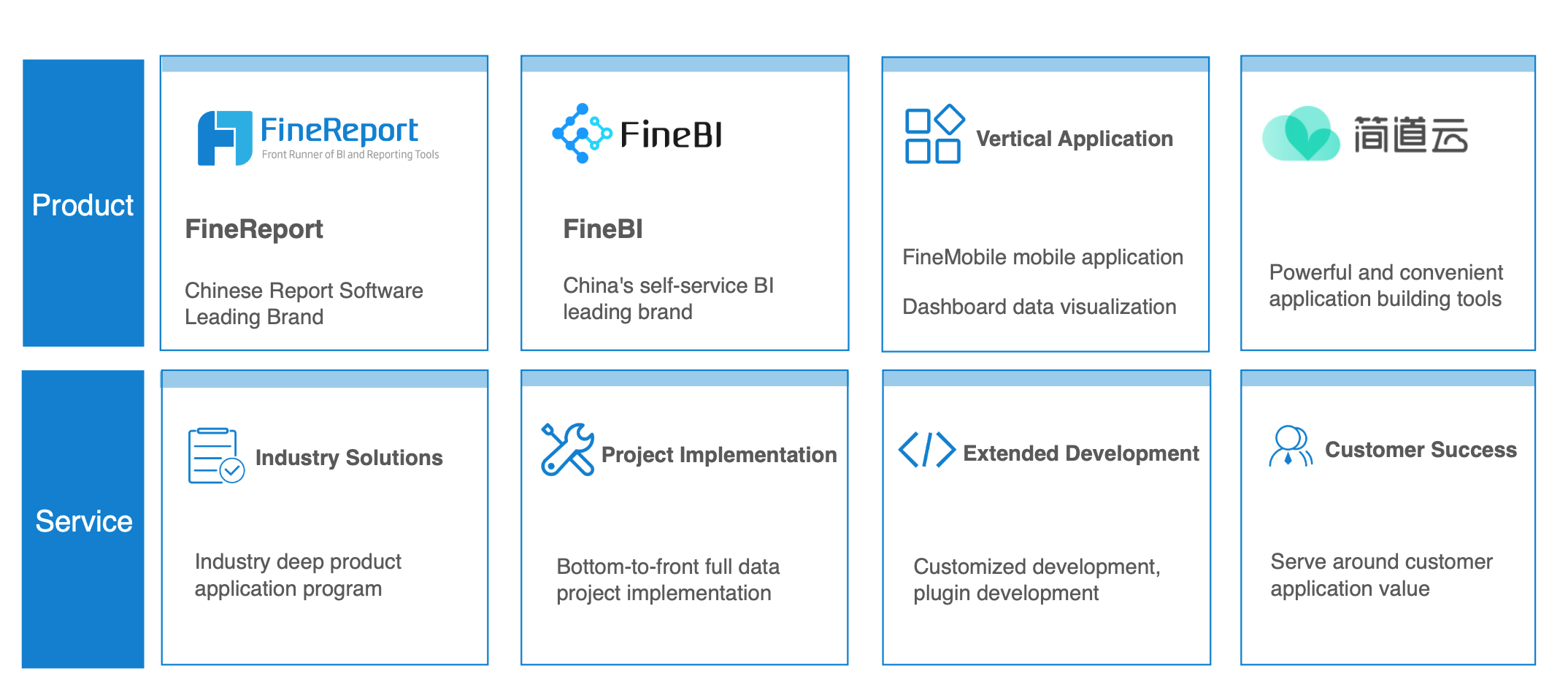 Tableau is the representative of Agile BIin the world. It has occupied the position of leader of Gartner BI Magic Quadrantfor seven consecutive years. Its slogan is "Tableau helps people see and understand data". Now Tableau products include Desktop, Server, Prep Builder, Vizable, Public and Reader. For analysts, the first three products are more commonly used to form a workflow. Founded in 2003, it has more than 4,000 employees and 4,000 Chinese customers. On June 10, 2019, Tableau was acquired by Salesforce in an all stock deal worth over $15 billion.
Although the development of the product lines of the two companies has the basis of BI software, their roadmap is quite different. Next, I will analyze the product positioning and product roadmap of both.
2. Product Positioning
Tableau is an OLAP (Online Analytical Processing) product, while FineReport is an OLTP (Online Transaction Processing) product. Both are data processing and analysis softwares, but they have different target population and market focus. Tableau is suitable for professional analysts who are familiar with analytical techniques and business executives with pivotal analysis needs. FineReport is led and designed by IT staff, with business executives involved.
For business people, getting started with Tableau is simple, which helps learners turn data into value right away. At the same time, Tableau's learning path is very long, there will be certain barriers. But if you can master this skill, you will gradually grow into full-time business analysts, thus maintaining an important position in the enterprise.
In contrast, FineReport requires a little more technical background than Tableau. And as a result, FineReport Software has organized a great implementation team to provide development and customization service for customers who purchase the product. Meanwhile, its BI product, FineBI, is quite worthy of the title of "self-service analysis". It's easy to study, and the functions (data connection, drag-and-drop analysis, multiple chart styles, etc.) are also very powerful.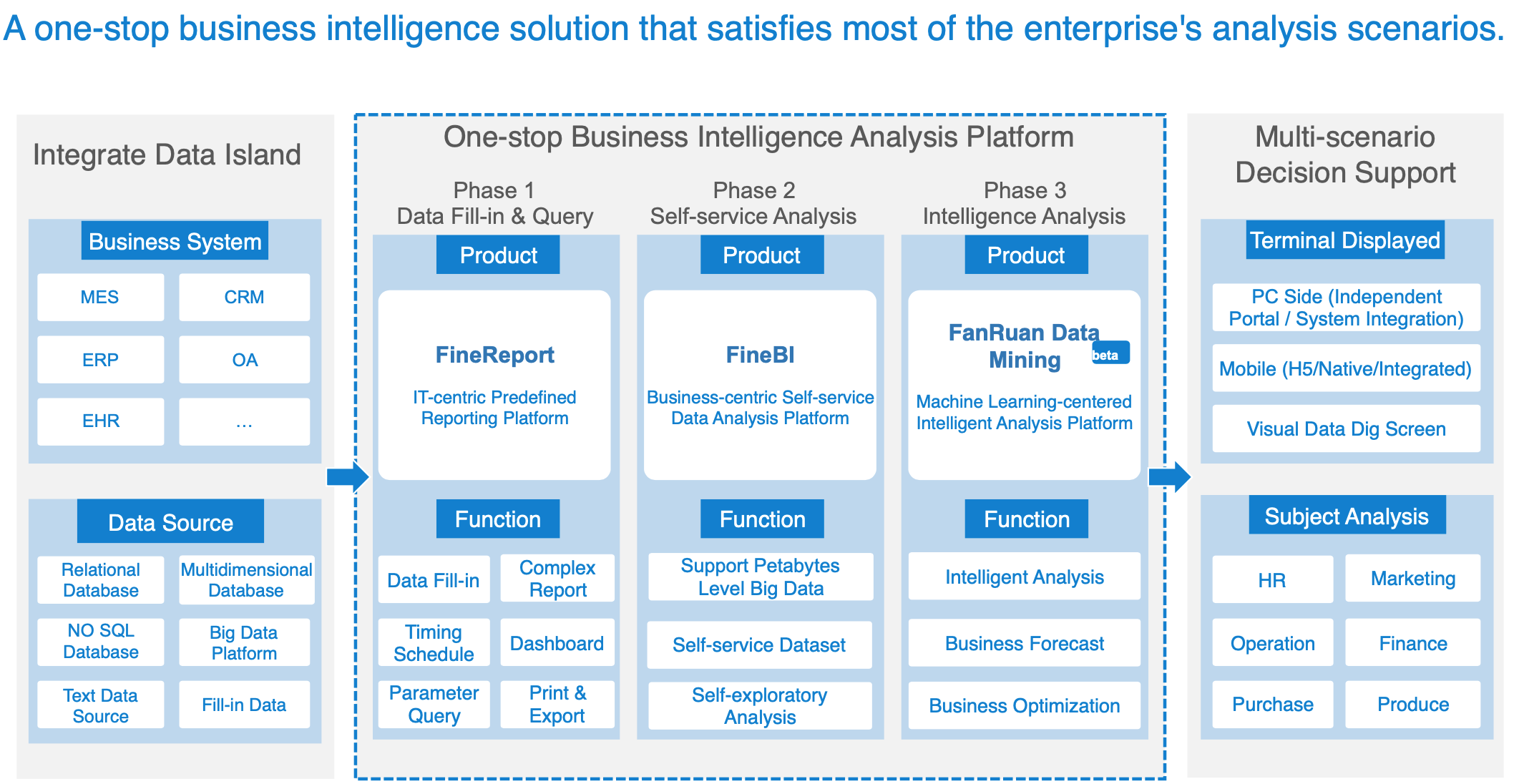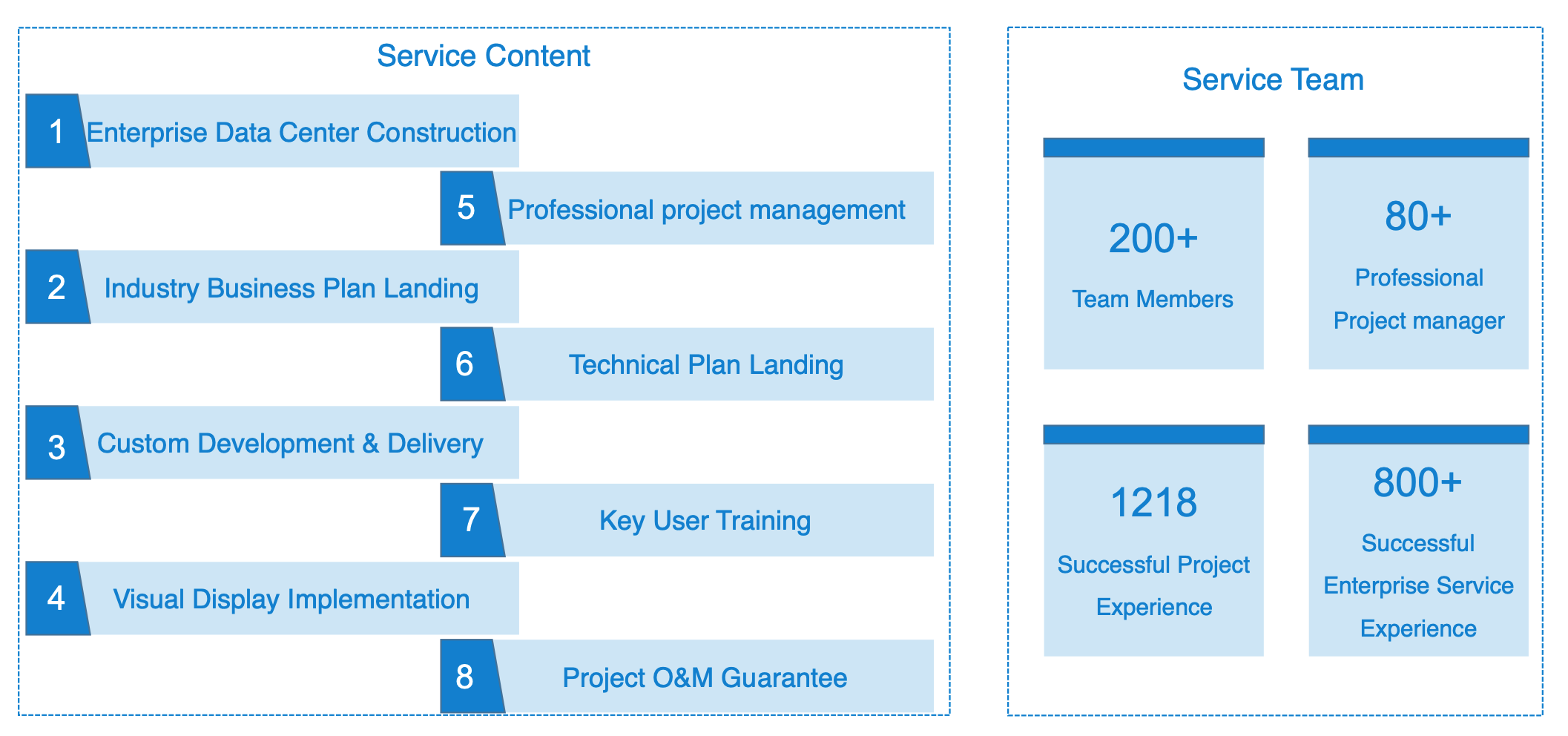 The highlight of FineReport Software is the industry template that it has developed over the years, which further reduces the cost of thinking. And the biggest problem many customers face after getting started with BI products is that they don't know what to do. FineReport's industry solutions provide a wide variety of sample templates for customers to learn, which are more in line with the requirements of different levels than Tableau's three general sample dashboards.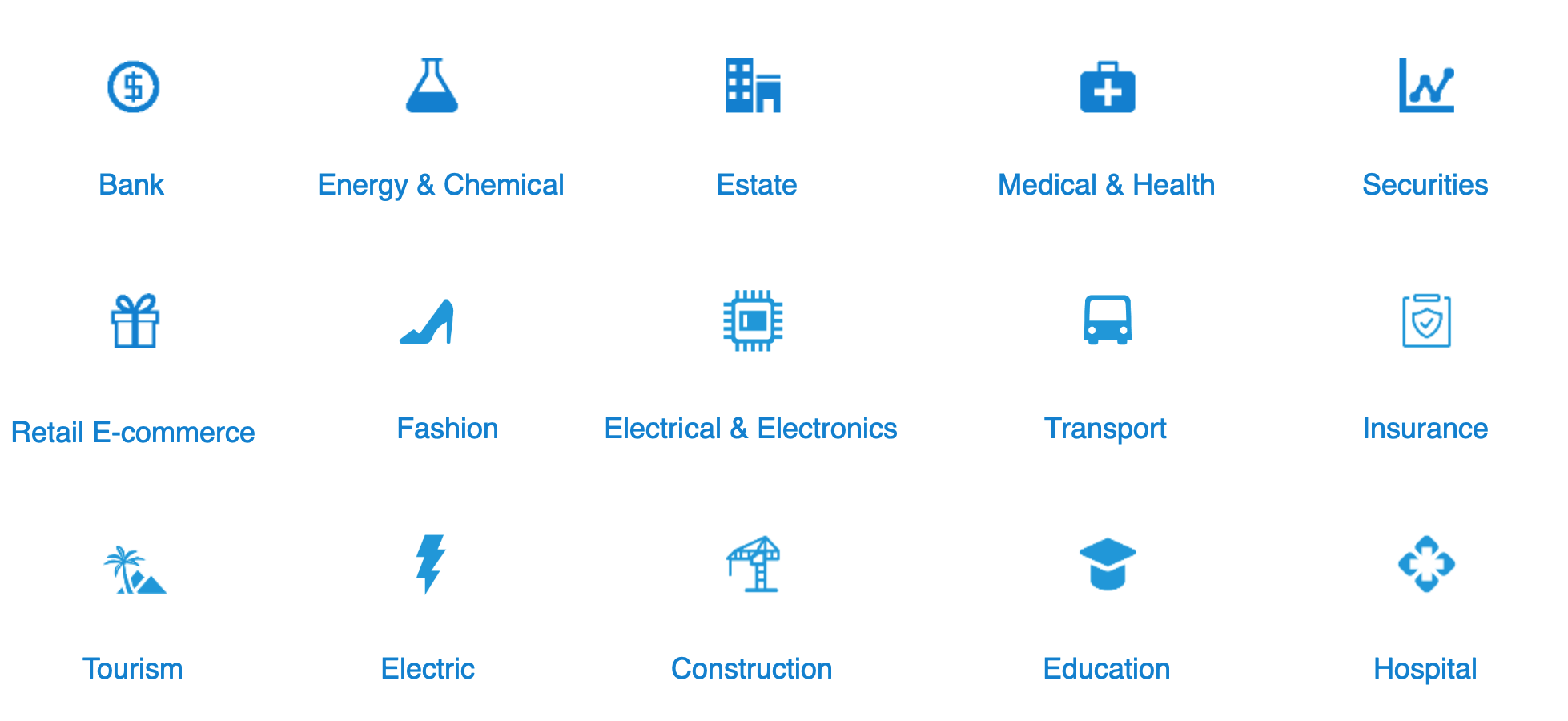 3. Situation of Chinese Enterprises & Product Roadmap
Tableau and FineReport have their own advantages. Both are easy to get started with, but why does FineReport continue to occupy the Chinese BI market? I think it is inseparable from FineReport's deep software development and implementation services in the Chinese market for more than ten years. FineReport knows more about the situation and needs of Chinese companies, which is much better than Tableau.
Unlike FineReport's emphasis on reporting, Tableau started with visual analysis. Customers who use Tableau for visualization generally have a good data governance foundation, a complete database and a good data culture. In other words, Tableau is the icing on the cake. It doesn't understand the situation of Chinese enterprises. Since Tableau entered China, this issue has certainly been repeatedly mentioned by many customers, including large companies.
The current China is faced with a period of great change. There are very traditional companies, and there are also cutting-edgecompanies that attract the world's attention. There are managers who are not proficient in using excel, as well as technical elites and business experts who are synchronized with the world. In short, China doesn't have the same mature data culture as Europe or America.
In China, what many companies need is to solve the problem. And the data culture is not enough to impress them. Therefore, on the product roadmap, FineReport uses data filling and data flow to promote the data advancement of small and medium enterprises and even rigid state-owned enterprises, and then slowly introduces BI products to achieve the real data reform. This is the most appropriate choice on its track.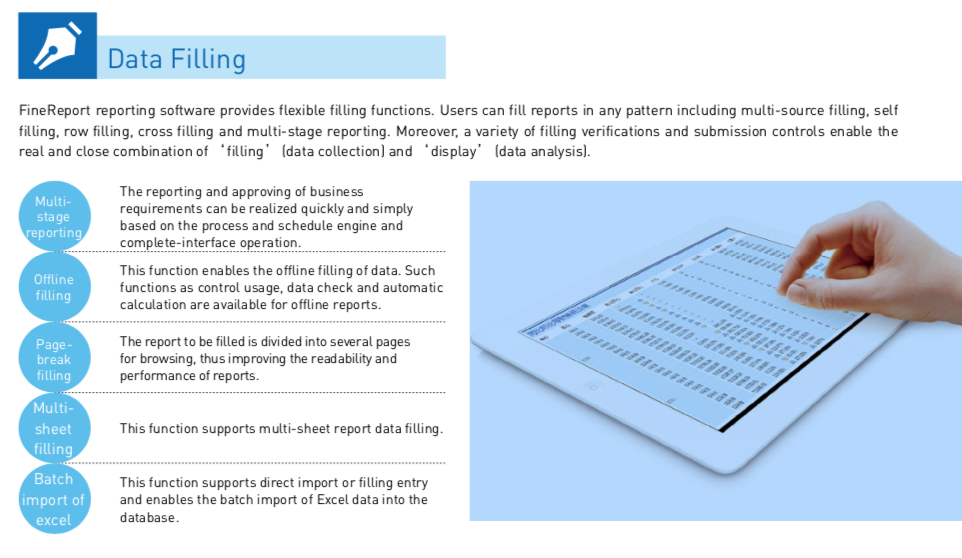 When it comes to data collection, I have to mention another product of FineReport Software, Jian Daoyun. It is not as famous as the Report and BI products of the company, but it represents the trend of cloudization of simple business flow and data collection. It can not only be developed separately, but also can be combined with Report and BI products, which can make up for the problem of data inconsistency and insufficient data culture of enterprises. I believe that its future development will be better and better.
In contrast, Tableau's deployment doesn't include a database, and there is no data entry front end. The users sometimes need to change the values and then write the data back to the original database and table. But Tableau can't support this function. So it is not so friendly to many companies in China.
Summary
The progress that FineReport brings to the enterprise is from -5 to 5, and then from 5 to 10. FineReport satisfies the reporting needs of traditional departments in many industries. It begins with accepting the backward situation of the enterprise and then enables the enterprise to gain value. In contrast, Tableau is suitable for companies with a certain data foundation and mature data culture. The users of Tableau need to start from "1", although many of them only have the basis of "-5". I think this is the reason why FineReport is the leader in China's BI market. It should have won in that place.
In the next article, I will specifically describe the differences in functionality between FineReport and Tableau. You can follow us on Facebook for more information!