Latest Trends in Data Visualization Software
Data extraction and data management are two of the major challenges that companies face in the modern world. The transformation of data to information in business processes helps achieve business goals and objectives. Its organization and classification are major obstacles in business processes.
Data comes from various sources and are collected at different times or periods. An information broker helps businesses by providing their data needs. A problem with a build-up of data gathered from different time frames is what tests the data management skills of an organization. Currently, the software offers data management assistance businesses.
Software that is used to handle numerous data also offers data visualization capabilities. Data visualization is the graphical representation of grouped data which is useful for users to formulate effective and timely decisions. Top data visualization practices comprised of standardized procedures, a clear grouping of data visualizations, profiling of data, and presentation of data. In the future, the expected top data visualization practice will be the storytelling of the data which will be used in the analytical process.
Data visualization software aids in adding value to data gathered internally and externally by an organization. It assists businesses in gathering relevant data, formulating strategies, and business process improvement. This software also helps with the sales department monitor sales information through the creation of graphical representations of their daily, weekly, monthly, yearly sales. This can also generate reports for decision-makers.
According to Cision PR Newswire, the market for data visualization is forecasted to register a CARG of more than nine percent. The predicted period is from the year 2019 to the year 2024. 
A company must know its specific needs in data management and data visualization. This helps businesses to determine the best data visualization tool for their unique needs.
Powerful data visualization software is needed for businesses with a huge collection of data. Big data visualization tools offer multiple features that supply hundreds of benefits and effective assistance to organizations.
A company must possess competitive project management developers and systems for effective data visualization. The best online project management software for developers should be one which can help meet the competitive and updated technological needs of a developer. It should be able to assist in solving developers' problems like delays, poor results, and over budgeting.
With that, it is important to know what are cloud servers and their effect on data visualization. Cloud servers are computer-based servers that mobilize cloud-computing technology. It provides high-tech hardware-software integration possibilities to effectively assist its users' daily operations.
Important features of data visualization software
Multiple data visualization tools examples are provided on the internet. These tools vary on prices, functions, features, and design.
The following are the important features data visualization software possesses.
Various graph designs
The data visualization software is a useful marketing tool that is equipped with additional and updated graphical templates and designs. This will not only provide for the effective classification and arrangement of data but also for the support of the creativity of its users.
Common graphs that are available in a data visualization software are pie graphs, bar graphs, and line charts. It is also desirable for software to have the labeling feature on graphs.
Accurate trend tracking
Data visualization software should possess the ability to accurately track trends. This feature assists in keeping track of the latest trends in an industry where the business belongs.
Strong security
The integrity of the information acquired from the processing of data through the collection, arrangement, and classification is important for accurate analysis and decision-making.
Data protection is important to safeguard confidential and hard-earned data. In the absence of adequate security measures embedded in the software, the risk of losing data is increased. Lost data causes additional cash outflows for its retrieval.
Simple interface
Users prefer user-friendly software for a short learning curve. It should be easy to operate and learn. The knowledge and skills of the main operator of the software should be taken into consideration in choosing software for data visualization.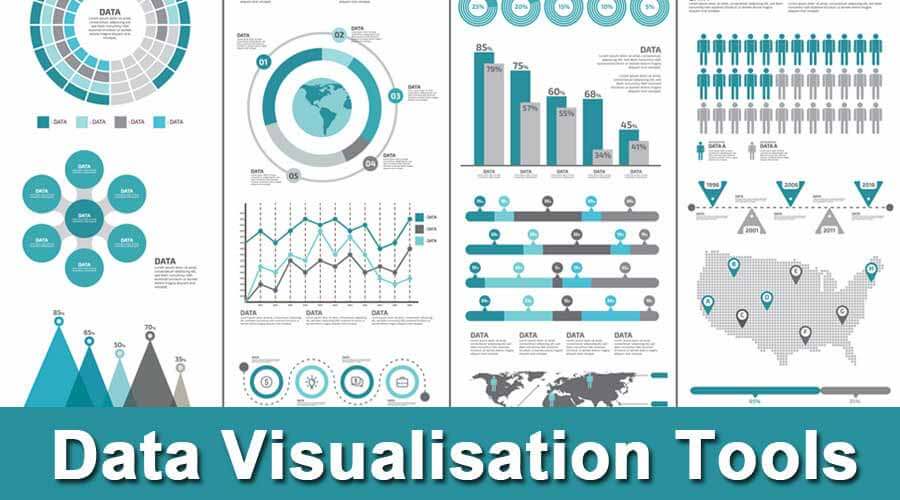 There should also be easy to comprehend manuals that provide basic tips on the proper usage of the device. This manual will also allow the company to immediately integrate the software into its system.
The Latest Trends in Data Visualization Software
Since the interdependence of businesses with computers, the complexity of data had been the major reason for the integration of data visualization software in business processes. Data visualization software is developed by countless creators. The design of the software depends upon the latest trends in the market.
The following are the latest trends in data visualization software.
Responsive and interactive analysis
A software that is agile in responding to user commands is becoming an important feature in most data visualization software in the current market. This includes the implementation of a drag-and-drop user-interface in creating dashboards and graphical illustrations.
Interactive dashboards support active communication within the network of the software. The interactive dashboard aids the business in effectively communicating with employees, business partners, and company clients.
Deeply analyzing raw data for timely decisions
This trend in data visualization software is majorly likened by businesses of all sizes that desire to produce timely decisions based on speedy raw data analysis. A software that is capable of using SQL to arrange unstructured data showcases a powerful intelligence platform.
The utilization of common data modeling language results in impressive visualizations and smooth data consolidation activities. Instant report generation is also a well-known feature of this software.
Integrates data into one platform for powerful analysis of data
This trend in data visualization software allows the secured sharing of the entire data from all the different departments of an organization. This also supports complete annotations and real-time data updates.
It also offers effective data analysis through the implementation of more engaging graphical tools and designs. Team players of the organizations will be more effective in conducting their daily work through the fast creation of visualizations that showcase business processes and job descriptions.
Availability of helpful tools
Software that is being purchased by many companies possesses various tools like KPI widgets, pivot tables, and tabular view components. These are helpful tools in report generation.
This type of software supports team collaborations by enabling accurate, complete, and timely report creation and decision development. This also allows the insertion of any reports or dashboards in the company's websites, blogs, and applications.
Accessible through desktop computers and mobile devices
It can link, graph, and share data from desktop computers to mobile devices. Dashboards can be shared with team members and analyzed through the systems either through desktop computers, laptops, and/or mobile devices like smartphones and tablets.
Social collaborations
The dashboard provides real-time data for more effective collaborative efforts for team members who are mobilizing the software. It also possesses multi-functioning widgets, sparklines, and trend indicators to assist the team in understanding data visualizations.
The user-to-user messaging capability of data visualization software supports effective communication between users of the software. This social sharing feature is a helpful factor for the successful relay of information between team members.
Set defaults and customize data connectors and templates
The design of the graphical visualizations used in classifying and arranging the data gathered by the company is also setting a trend for most software buyers. The customization feature of some software allows the users to manipulate data connectors and graphical templates according to their needs.
Data Visualization Software: Change Is Rapid
There are numerous combinations of features that individual data visualization software possesses. The latest trends in data visualization software focus on the graphical designs and templates availability, interactive capabilities, speedy data transformation, data analysis assistance, availability of helpful tools, device accessibility like desktops and mobile devices software compatibility, team communication support, and customization features. These are the latest trends in the global market for data visualization tools. It changes every year as technological advancements occur rapidly.