Why Executive Need KPI dashboard to Manage Data
Why We Need a KPI Dashboard?
Have you ever driven a car without looking at its dashboard?
Without checking its fuel level, temperature, speedometer or any of its indicators. For some, they even check their tyres, side mirrors, and hazard lights.
Simply drive a car without checking the dashboard means you are exposing yourself to a higher risk level.
Just like driving a car, managing a business also require business owners to know his/her critical numbers to make better business decisions. Without knowing the numbers, decisions are just made based on emotions or his/her intuitions alone.
Start today with simple indicators to know your business better. I'm sure you able to see the benefits of knowing the critical numbers in your business key result areas.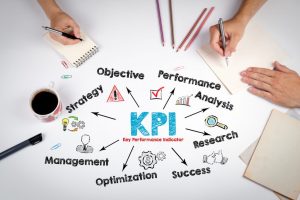 Types of KPI Dashboard
There are many types of KPI dashboards. Almost all positions in a company have KPI requirements. However, the KPI rules of different positions are different and cannot be managed uniformly. This often causes management difficulties for management. At this time, the KPI  dashboard can easily solve the management dilemma and check the KPI completion status of different positions.
Here are some simple examples:
#Marketing:
Number of leads from the specific lead source
Number of channel partners
Number of marketing activities
#Sales:
Rate of conversion
Value of business transactions
Value of sales booked
KPI dashboard made by Tableau
#Finance:
Number of invoices issued per month
Average value of invoices issued per month
Value of payments received per month
Value of payments made per month
#HR:
Number of training days
Number of annual leave taken
Number of MC taken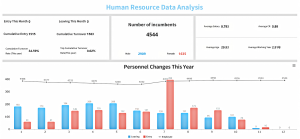 HR dashboard made by FineReport
#Operation:
Number of products delivered
Value of products delivered
Number of product returned/rejected
Number of complaints received
Start with a simple KPI Dashboard before you expand into a more detailed and bigger scope of business. It's a good idea, right?
Tips for Making KPI Dashboard
Making a dashboard becomes easier once you have clarity of vision and listed down what you want (and what you don't want).
Here you can use FineReport to make a KPI dashboard. It is easy-to-use and you can make various charts by some simple drag & drop action.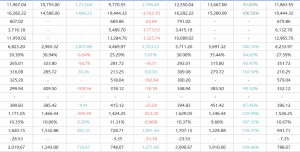 Design layout and load data.
FineReport supports custom layouts, and you can create your favorite layouts by dragging and dropping. For example, like this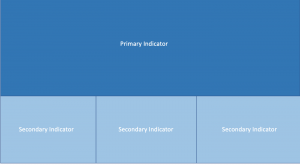 Use Conditional Formatting & Formulas to Display Icons.
FineReport supports custom formulas to determine if the data meets the criteria. For example, we can calculate the KPI value of each employee by the KPI formula. If it is greater than the specified value, it is excellent, otherwise, it is unqualified.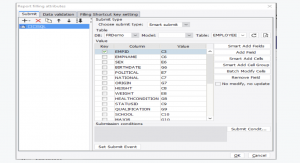 Data Analysis in KPI Dashboard
What core indicators will be analyzed by KPI dashboard? It  generally can be divided into the following six categories:
Data Total Analysis
Development Trend Analysis
Data Comparison Analysis
Compositional Structure Analysis
Achieve Progress Analysis
Influencing Factors Analysis
Here are a few examples of financial analysis:
Data total analysis is often used to measure the key core indicators that leaders are most concerned with under the business segment. For example, finance is annual operating income, annual consumption cost, and annual net profit.
As shown in the figure below, we use the dashboard component to calculate the three core indicators of the company's total annual revenue, annual cost, and net profit. The annual revenue status is clear at a glance.

Analysis of Development Trend
Development trend analysis is often used to visually compare data trends over a continuous range for pre-judgment of next year's plans. Such as sales forecast, financial ratio trend. For example, on the one hand, it can analyze whether there is an abnormality in the increase or decrease of data, and discover problems that may exist in the enterprise; on the other hand, it can help enterprises predict the future financial situation and judge the development prospects of the enterprise.
Such a chart that directly presents the trend of the enterprise, generally can use the line chart for analysis and statistics, with the horizontal axis for time (year, month, day), and the vertical axis for indicators such as operating income, cost, profit rate, etc.  As shown in the figure below, the left-value axis counts the trend of annual operating income and cost expenditure, and the right-value axis calculates the annual profit rate trend.

Data has no value without comparison, and single data cannot be judged. In general, the reference standard for comparative analysis has the following four aspects:
Time comparison: comparison with actual data of the previous period and the same period of last year
Entity comparison: comparison with data of advanced enterprises in the same industry or other enterprises in the same industry
Caliber comparison: compared to the plan or budget data line
Structural comparison: Compare the composition of the two data on the basis of the composition analysis, and analyze the changes in financial indicators.
When we do a comparative analysis, it is recommended to use a histogram or a bar chart to compare the size of the data. When comparing data structures, it is generally recommended to use the cumulative column chart and the cumulative bar chart for data comparison analysis. In addition, other charts can be used according to the specific situation of the analysis, such as the high and low connection of the line chart to represent the comparison between the highest and lowest inventory of several companies and the inventory.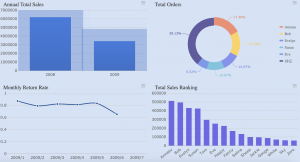 Sales dashboard made by FineReport
Achieve Progress Analysis
If you need to show the progress of a certain indicator or a task, such as the completion of the department's performance, the progress of the declaration of fees, and so on. In order to more intuitively display the progress of various indicators and tasks, we can generally show the progress of the data by stacking column charts, stacked bar charts, and Gantt charts.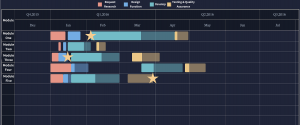 Gantt chart made by FineReport
Conclusion
KPI dashboard can help executives make better decisions through the visual display of various indicators. Whether it is process management or indicator query, KPI big screen will greatly improve efficiency and reduce unnecessary communication time.