7 Data Visualization Tools to Create Infographics
What is Infographic?
Infographic is not a trendy word now, you must have seen it in your daily life whether you notice it or not. It is a clipped compound of "information" and "graphics", which represents information, data or knowledge intended to present information quickly and clearly.
There are many types of infographics, let me introduce you to 9 most popular kinds. They are Statistical infographics, Informational infographics, Timeline infographics, Process infographics, Geographic infographics, Comparison infographics, Hierarchical infographics, List infographics, and Resume infographics.
So you will find that in life, the infographic is really everywhere, and helps you a lot in a silent way. And in this article, I will show you 13 data visualization tools that can help you make infographics in just 30 minutes.
Most Popular Data Visualization Examples of Infographics
Early Infographics
In 1626, the infographic to show the Sun's rotation patterns made by Christoph Scheiner published in the book that revealed his research about the rotation of the sun, it was the earliest infographic.
And before the 20th century, let me show you two meaningful infographics.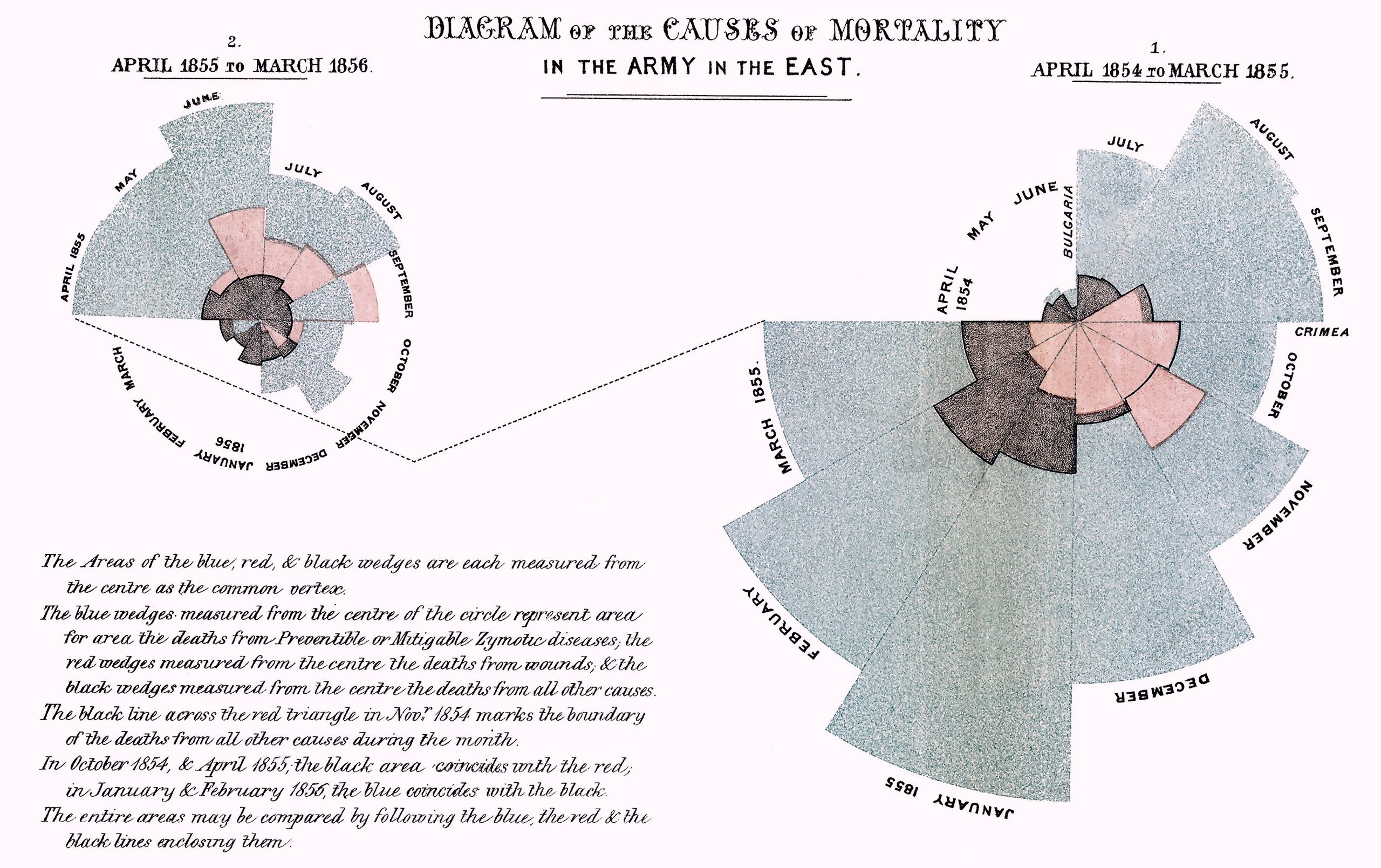 Polar area diagram by Florence Nightingale illustrating causes of mortality during the Crimean War (1857).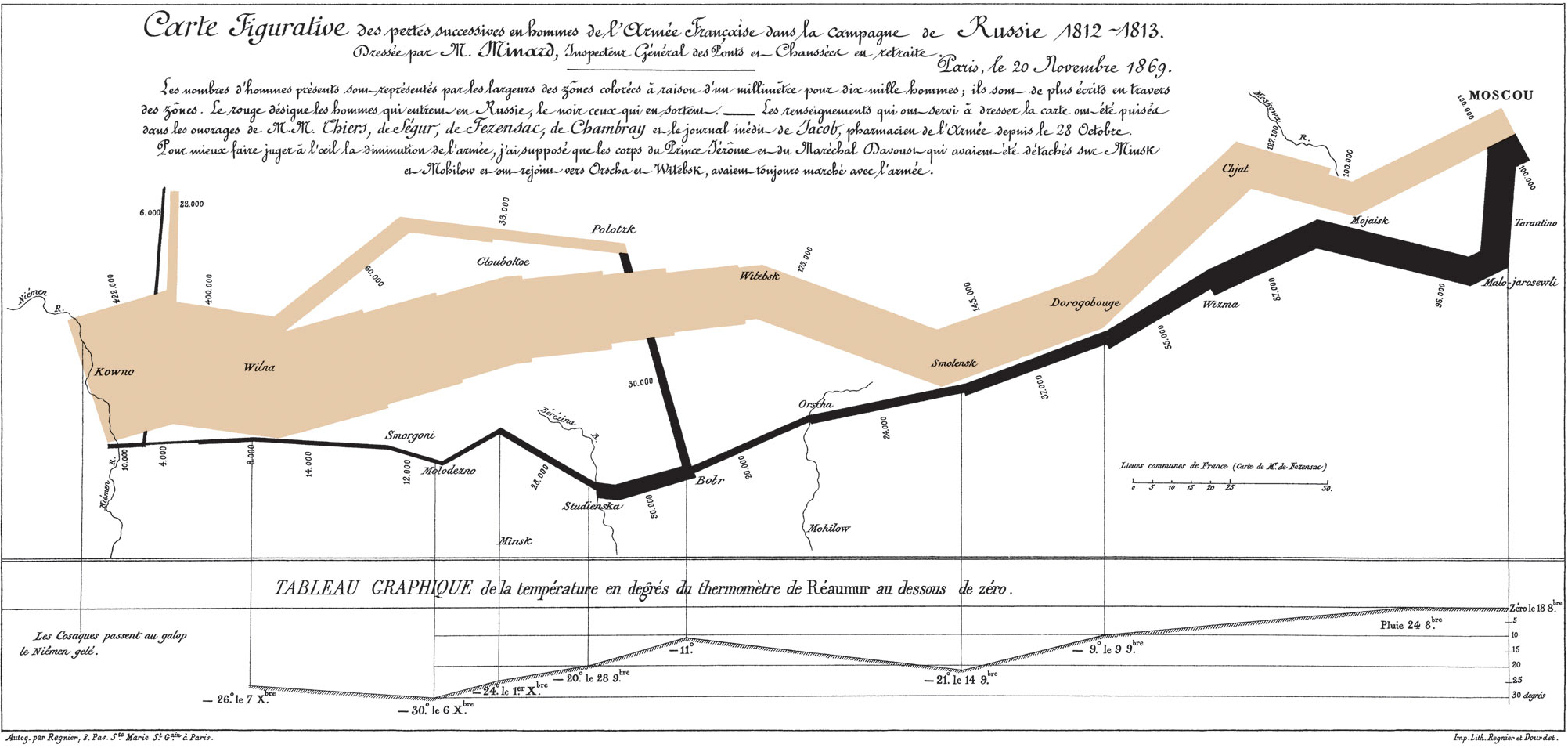 Charles Minard's infographic of Napoleon's invasion of Russia(1861).
Recent Infographics
By the year 2000, with the rise of alternatives to Adobe Flash, such as HTML 5 and CSS3, infographics are created in a variety of media with a number of software tools.
Infographics have gradually penetrated into our lives and have played an active role in various fields. First was journalism, and then business started to use infographics to communicate with and attract potential customers, which is a kind of content marketing, thus possibly boosting a company's revenues.
Infographics come to the classroom as well. Many courses that teach students to make infographics by some data visualization tools. This way can help them understand the contents more deeply.
With the help of social media, infographics become more popular. Such infographics are shared by users of social networks such as Facebook, Twitter, Pinterest, Google+ and Reddit, and almost cover all topics.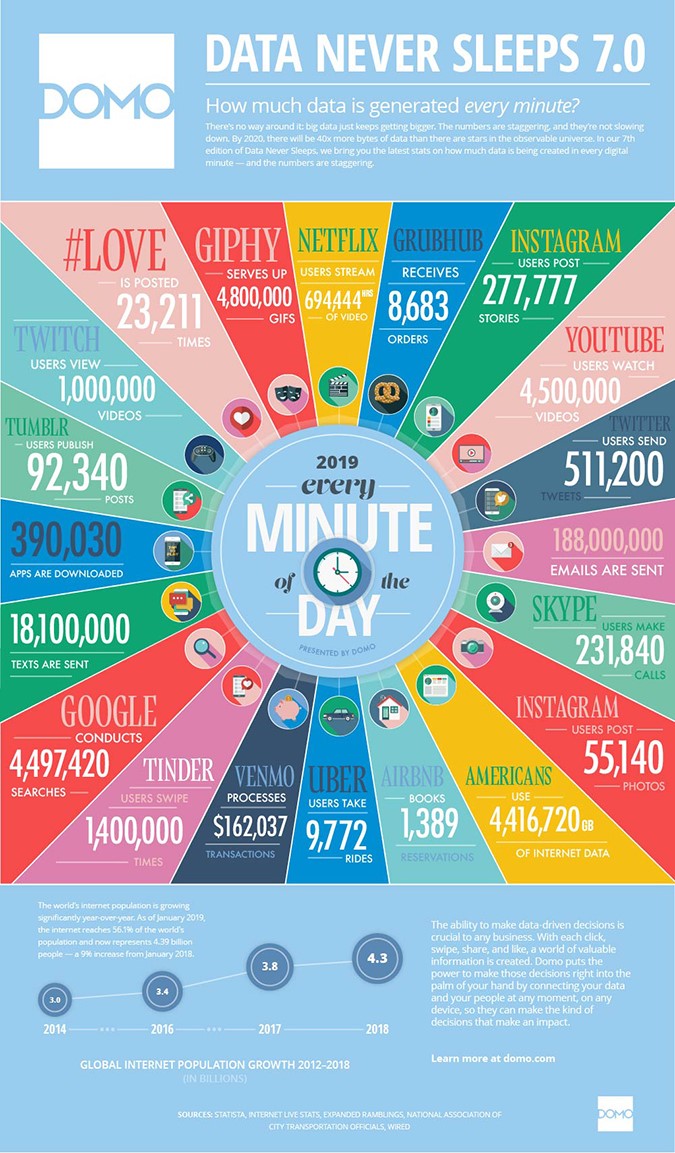 Pic Source from DOMO
7 Data Visualization Tools that You Need to Know…

Price: Free.
Introduction: Canva is a free online design tool. It has many templates and you can use them to make not only infographics but also logos, blog banners, Facebook covers, YouTube Thumbnails and so on.
The advantage of Canva is that it is very easy to use and by using templates for different uses, you can definitely save a lot of time.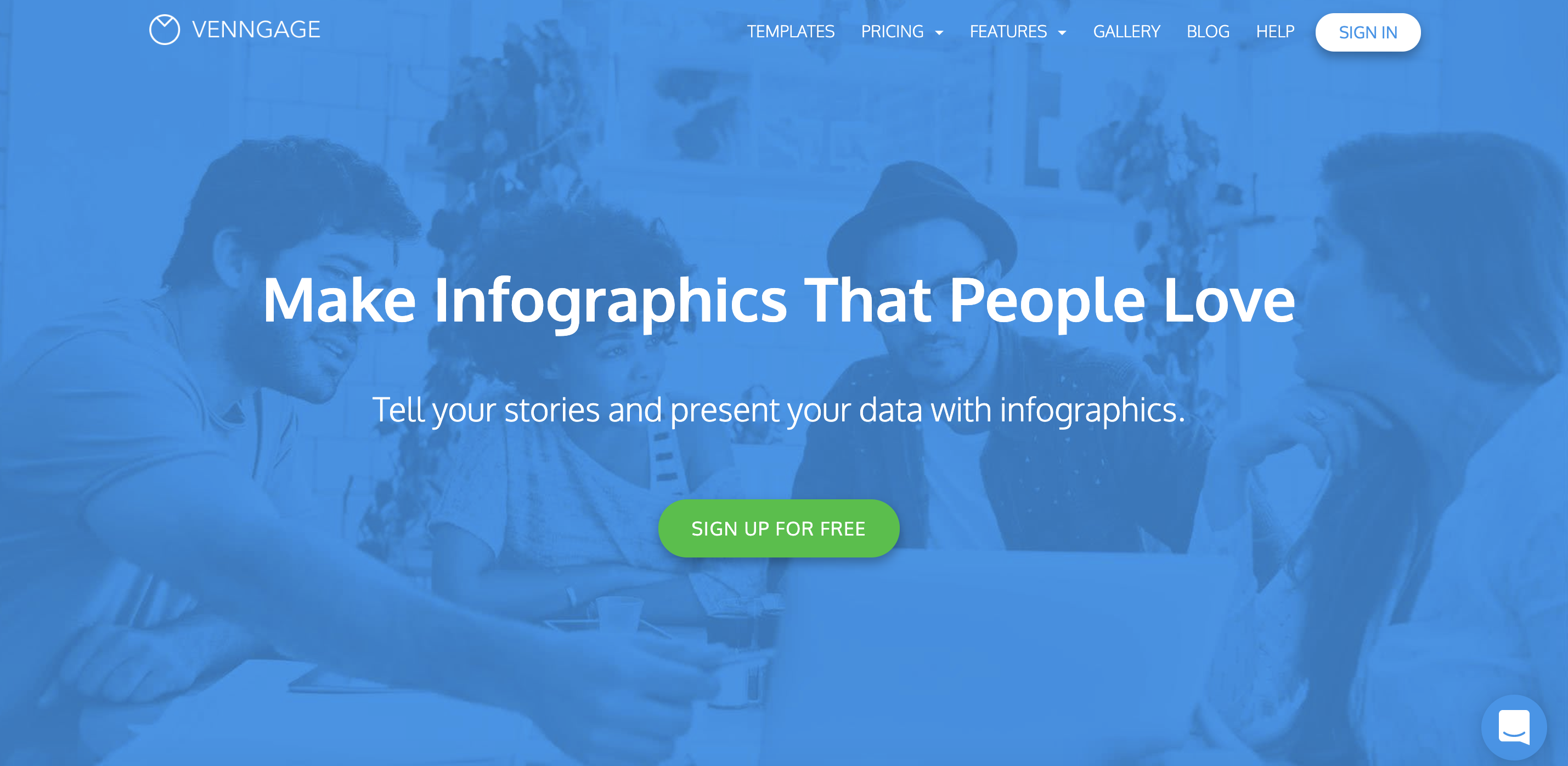 Price: Free for students, paid for other people(Business/Premium/Education).
Introduction: Venngage offers many features for you to choose from. Except for making infographics, you can create almost everything you need when you work just as the following picture.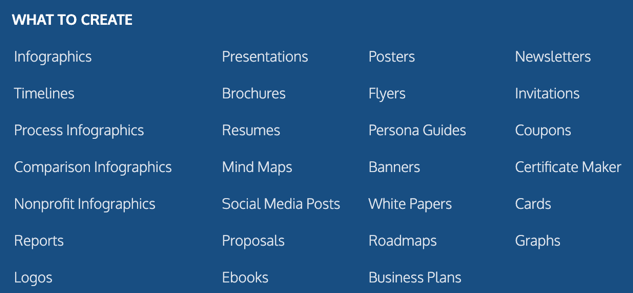 Price:Free and have paid options(Lite/Pro/Pro Team/Nonprofits/Education).
Introduction: Piktochart is also a good choice to make infographics. It doesn't have so many templates for other uses, it only has social media, presentation, report, poster and flyers design. However, it is also very powerful and convenient, you can definitely complete a picture you want in 30 minutes.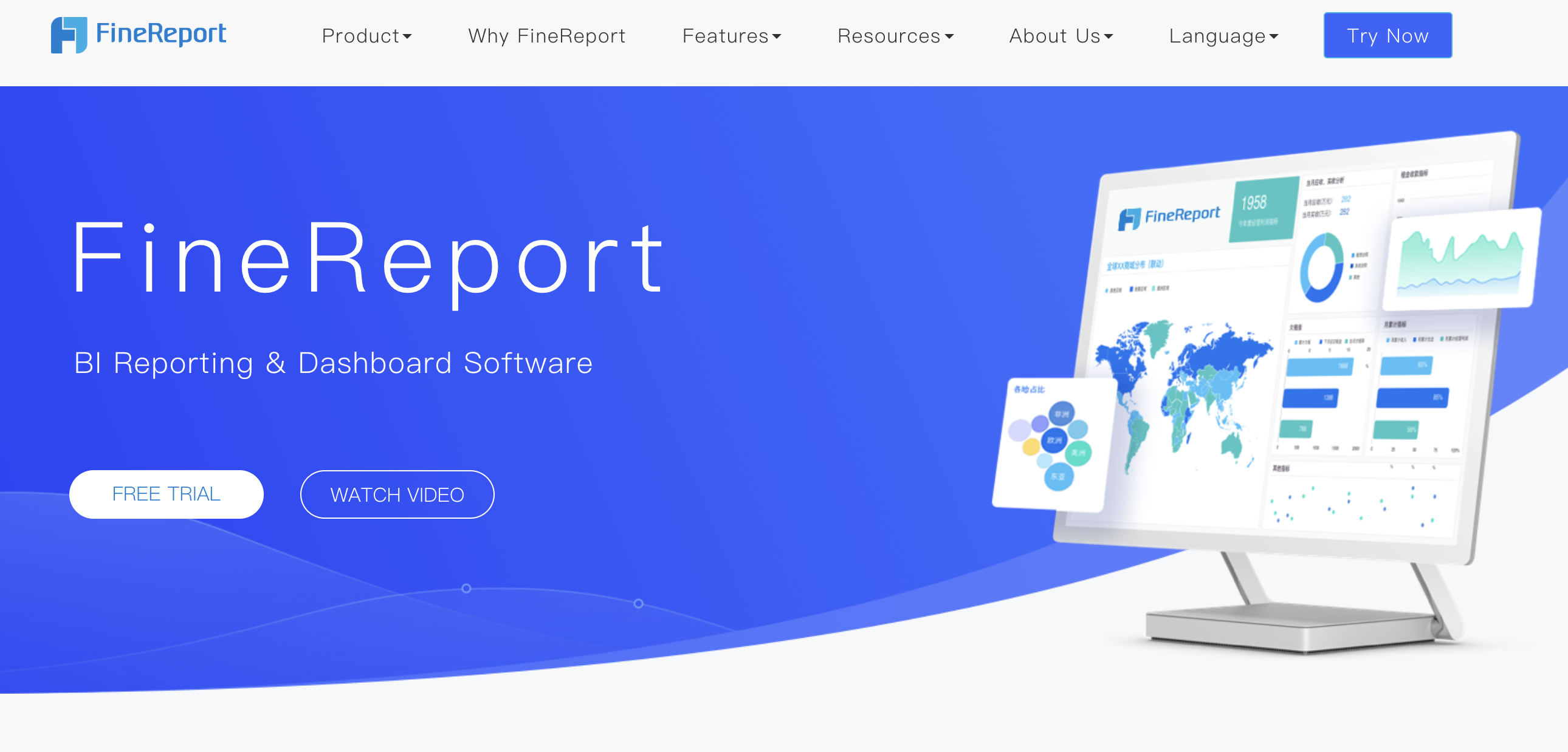 Price: Free for personal use, paid for company use.
Introduction: FineReport is a powerful BI reporting and dashboard software. Actually making infographics is not its most excellent function. Let us see the infographic made by it first. The advantage is that it has some dynamic effects to show data more distinctly.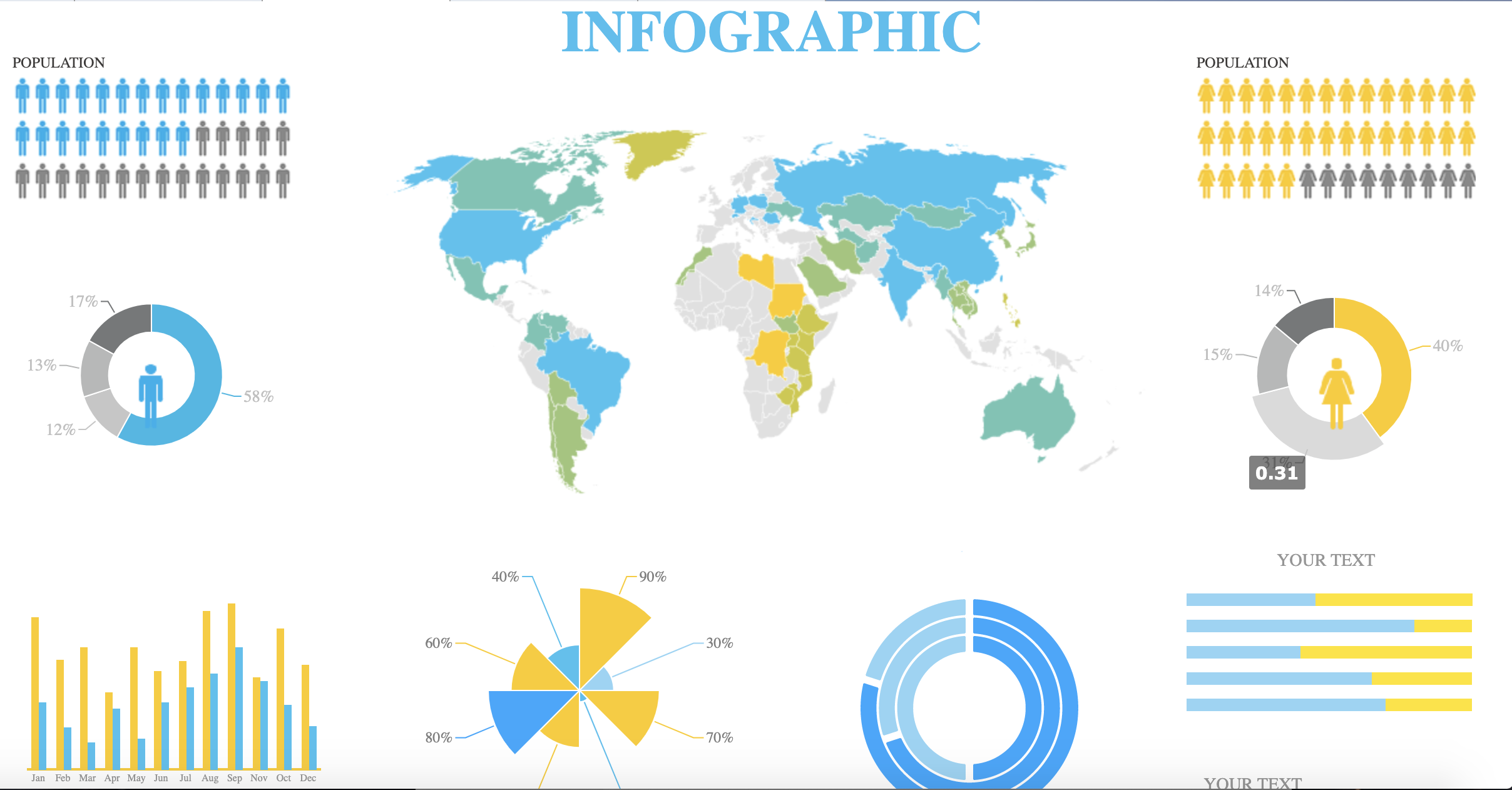 In addition to infographics, different kinds of dashboards are also very cool, it is also an excellent way to transmit the data, and the executive can make the choice more efficiently.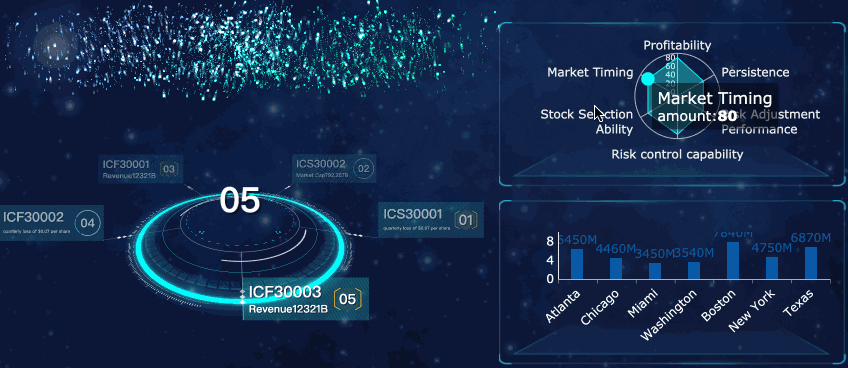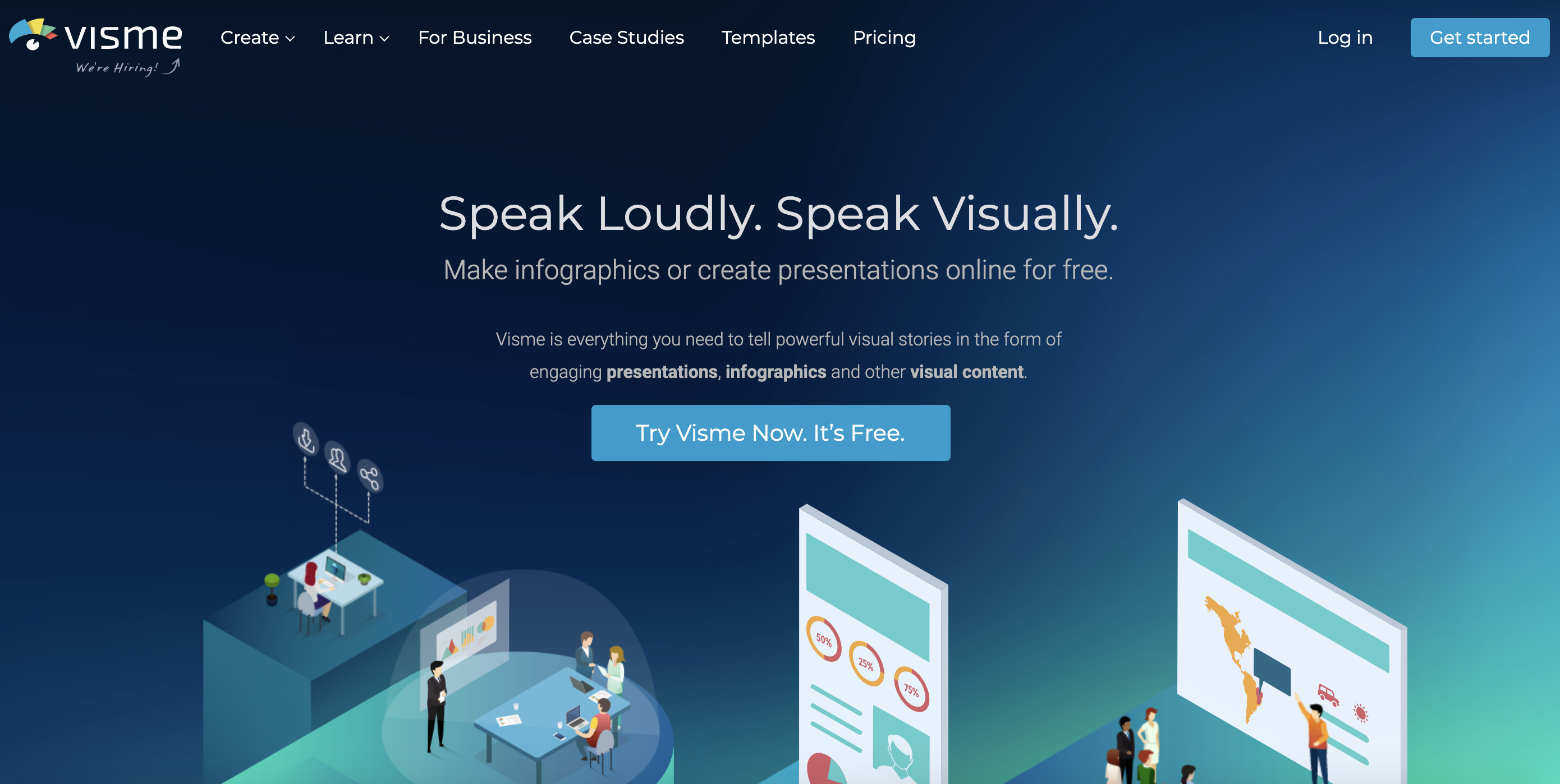 Price: Free and have paid plans(Individual/Business/Education).
Introduction: Visme offers a large amount of learning tutorials, which consists of blogs, videos, ebooks and online webinars. It is a very nice guide for beginners to learn how to create infographics.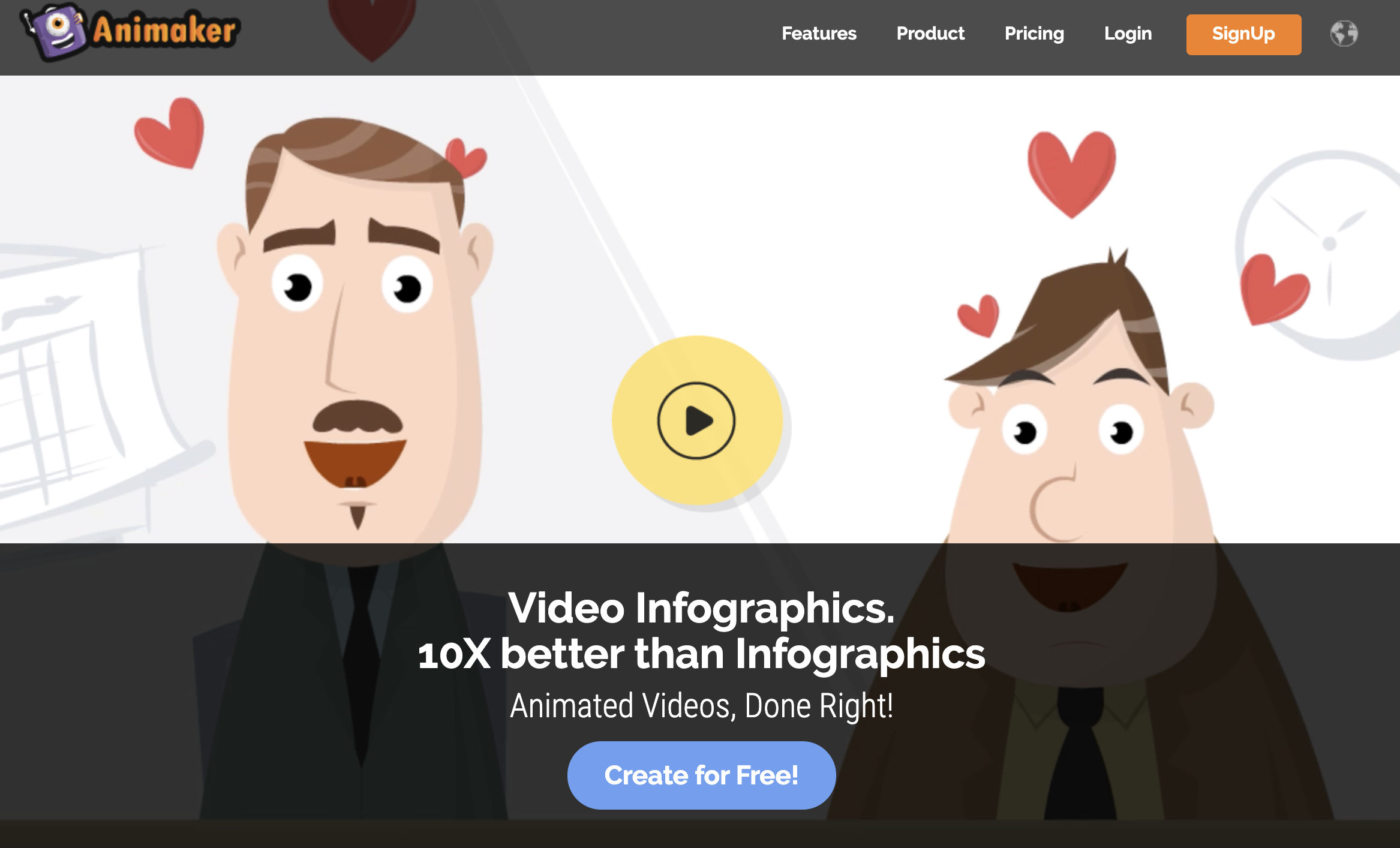 Price: Free and paid plans(Personal/Startup/Business)
Introduction: Animaker is a special website to make an animation to show your data. It is the World's first video infographics maker, which provides a lot of features to add pro-level animations to your video just as follows.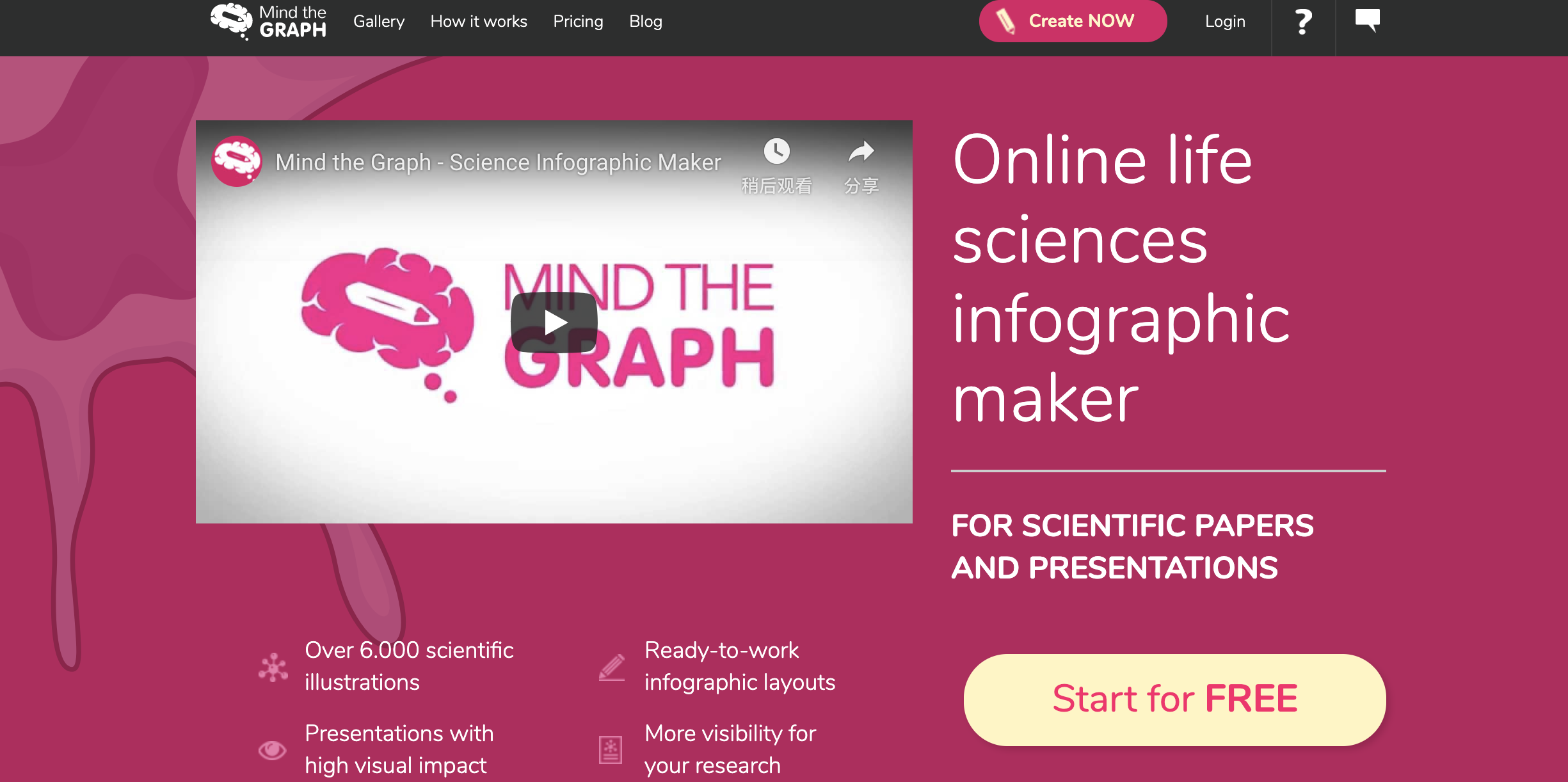 Price: Free and paid plans(Student/Researcher)
Introduction: Compared with other infographics maker, Mind the Graph is an online life science infographic maker, especially for scientific papers and presentations. It cooperates with many famous universities, such as Stanford University, Harvard University, UCLA, University of London and so on.
Let us see the special infographics made by Mind the Graph.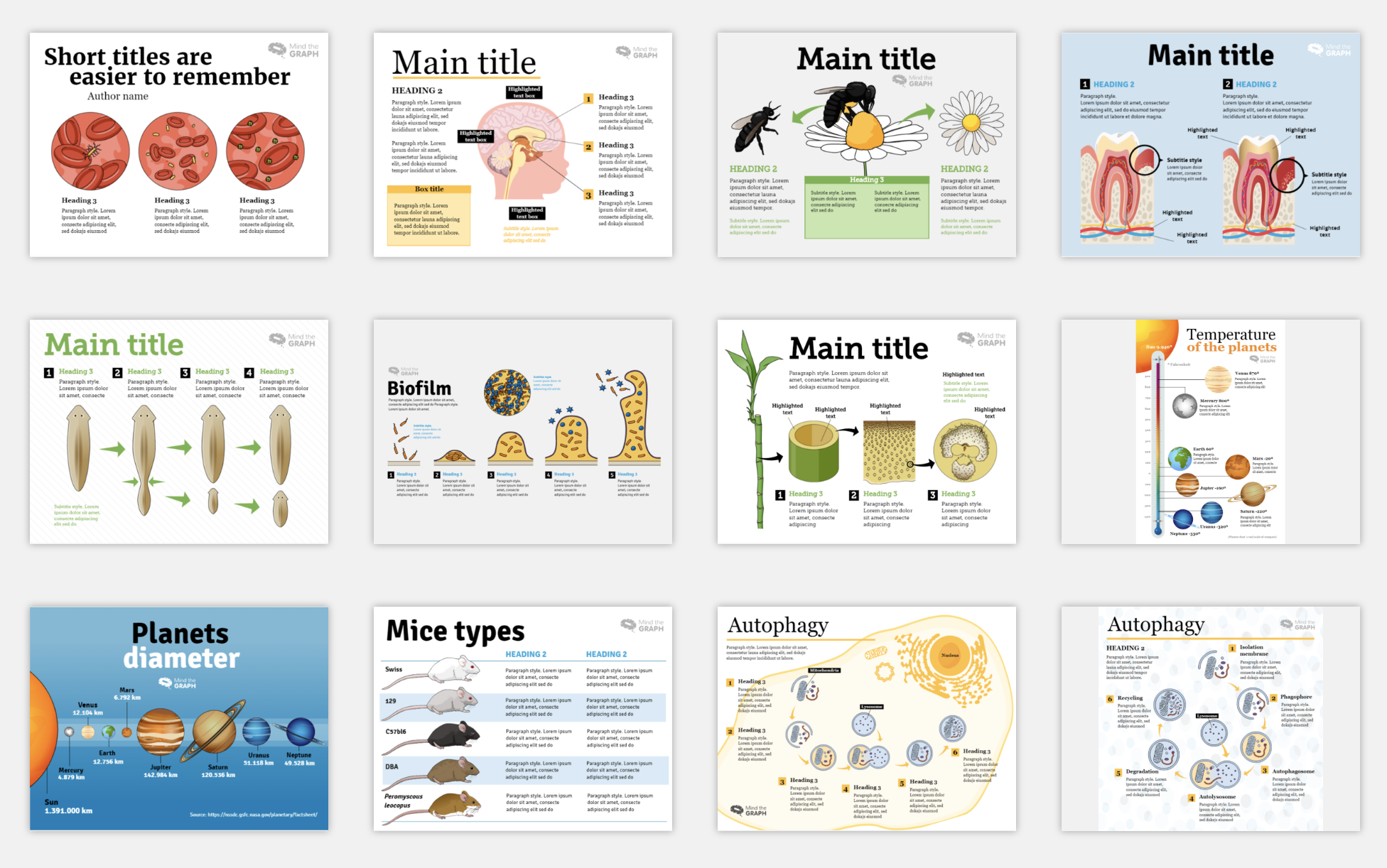 By the way, have you ever seen so many bacteria and molecules in detail?
Conclusion
In our daily lives, infographics are quietly affecting our lives. It condenses a large amount of information into a beautiful picture and displays the data in a more intuitive and clear way, saving people time to query and filter data.
All walks of life are inseparable from the help of infographics. The decision-making layer can quickly understand the progress of the business and help decision-making through the infographics. Technicians can find effective ways to improve business efficiency through the infographics; production personnel can detect production anomalies in time and troubleshoot production problems through infographics.
It's not easy to make a good infographic. From screening data, statistics, to design layout, and displaying data, it can take a long time for people at the beginning. But with these 7 data visualization tools, you can easily create a beautiful and effective infographic in 30 minutes, greatly improving efficiency.
If you are still troubled with making infographics, choose a data visualization tool and start making it now, maybe it's not as difficult as you think!