Big News! FineReport Cooperated with Haisco Pharma!
1. Customer Introduction
Haisco is a pharmaceutical group company with strong technical force. Its core business is the development of new drugs. Haisco has an R & D team of nearly 500 people and the research content covers many clinical treatment fields such as parenteral nutrition, tumor, cardiovascular, antiviral drugs, endocrine and central nervous system. Haisco now has more than 900 agents and more than 8,000 sales staff. Its business scope covers more than 1,500 cities (about 110 cities have more than one million people).
2. Cooperation Background
With the development of the company, it has more and more employees, especially the sales staff, increasing the difficulty of management. The pressure from external environment is also growing. The R&D investment and risk are higher and higher, and the product form changes faster and faster.
1. A large number of agents
In the sales management, Haisco uses the agent model, which is widely used in the field of medicine. Haisco has more than 900 agents and more than 8,000 sales staff, covering more than 3,000 hospitals. The medicine is a special item which has a distribution period, so it has very high requirements for storage and transportation. The company needs to manage the inventory of more than 900 agents, collect, statistic and analyze data from more than 8,000 sales staff. All these work needs a powerful system. The management of pharmacies and agents is very important as the listed products of Haisco are all prescription drugs.
2. A large number of product types
Haisco has a large number of product types, including narcotic drugs, psychotropic substances and first-aid drugs. Medicine is a relatively special industry with sales restrictions. Uniform dealers are not allowed to sell narcotics and other vials, so the management mechanism needs some special treatment.
3. Non-uniform data
There are large amounts of data in different forms and different statistical rules from various agents. It is difficult to do data analysis and support decision making.
The IT department also encounters problems:
(1)With the increased awareness of big data analysis and data visualization, managers put forward a deeper level of enterprise data analysis needs.
(2) Increasing demand for enterprise information and data security.
(3) Business leaders can not put enough money and manpower in the information system construction. So IT department can not provide effective data support when making decisions, such as how to choose suppliers and agents.
3. Solution
IT architecture:
1. Focus on the core competitiveness, the enterprise endlessly creates value for customers to seize the pharmaceutical market and win more high-quality customers.
2. To establish a strategic control system for planning, implementation and control purposes based on strategic decomposition, responsibility budget, performance appraisal and business analysis.
3. To establish a business operating system covering research and development, production, procurement, sales, finance, logistics and other functional departments based on the organization structure, job description and business processes.
4. To establish an information technology strategy support platform based on ERP \ CRM \ HCM \ PLM and other different information systems in the network, servers and other basic IT architecture.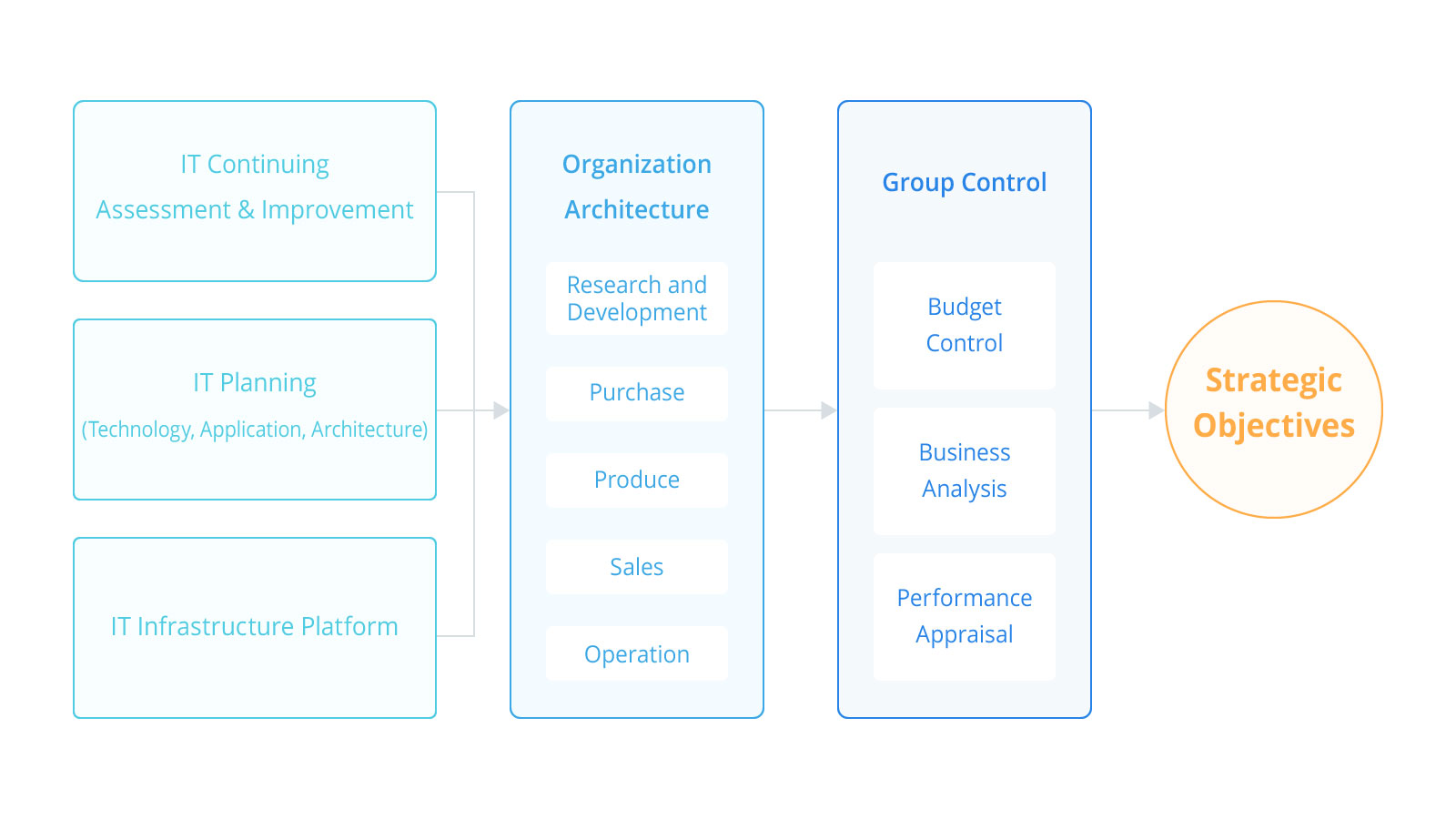 4. Examples:
Create a sales report including data display and data analysis with FineReport BI and reporting software.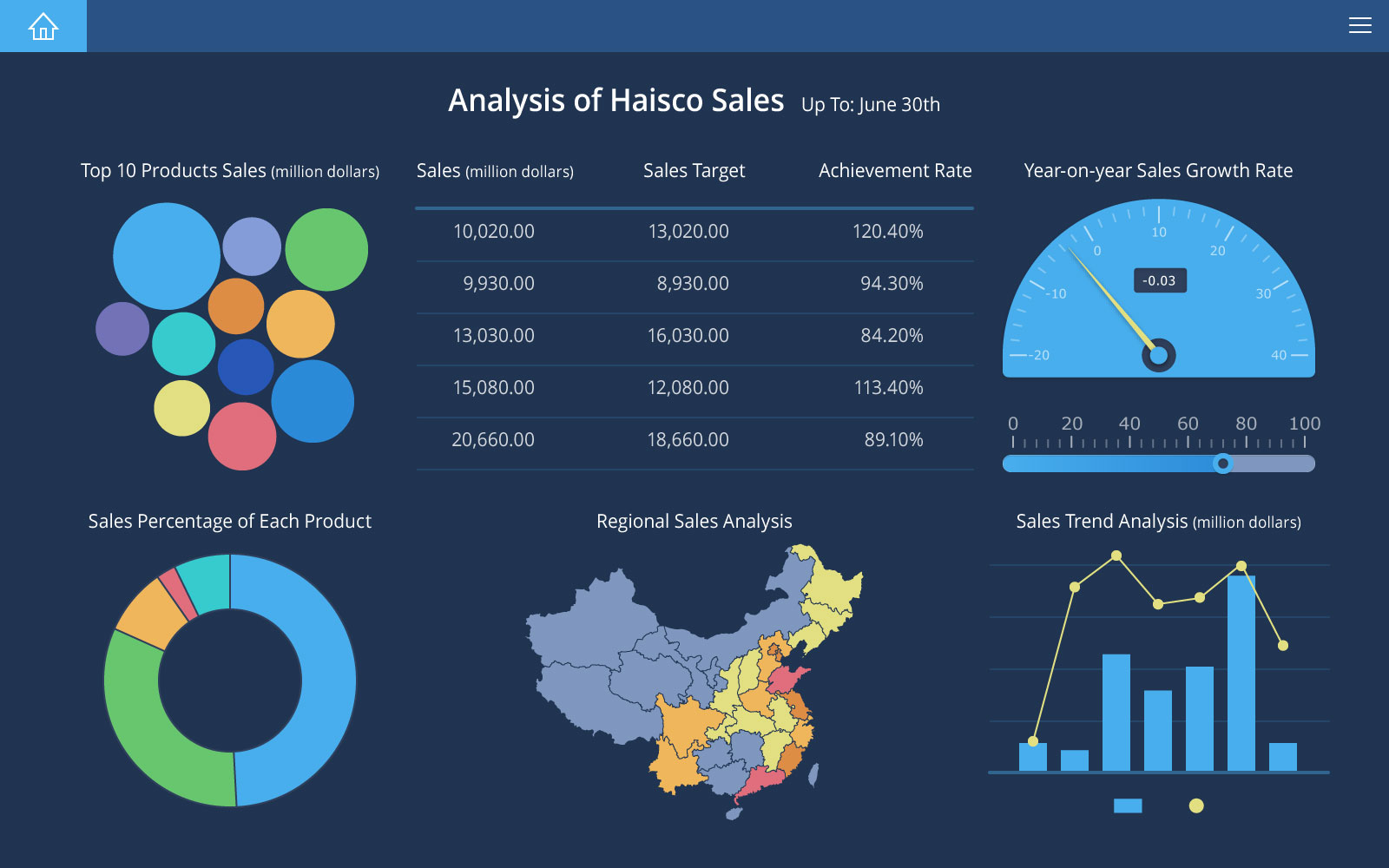 "The use of FineReport BI and reporting software,a great dashboard software, brings a lot of value to the company. It uses the usual means to solve some of the company's major problems. Our company is deepening the use of FineReport BI and reporting tool, so that the informatization base has a comprehensive upgrade. At the same time, FineReport BI and reporting tool makes the presentation of dynamic reports as complete as possible."