About Fanruan Software
Fanruan Software introduction
Overview
Fanruan Software Co., Ltd. is the front runner of BI and reporting tools, leading its peers in size, service network, brand influence, market share and sales. Fanruan has over 400 employees, most of them graduated from prestigious universities. Highly qualified and competent, they seek to deliver the ultimate products. Fanruan has two operation centers, 15 branch offices and 41 offline service outlets in North American, Southeast Asia, Japan, Taiwan and mainland China.

Cooperative Clients
6,000+ cooperative clients across 233 business segments in different industries.

Users
200,000+ report developers; 2,000,000+ users query, view, fill and analyze data using FineReport.

Service
16 years experience in the reporting tool area; Over 400 employees, 15 branch offices, 41 offline service and various online service channels.
Reliable Service
As the top BI and reporting software brand, adhering to the 'Service and Client-oriented' service principles and 'timely, professional, thoughtful and meticulous' service spirits, FineReport is dedicated to providing clients with high-quality and high-efficiency services and powerful support to help them foster their business progress and achieve outstanding performance.
For the effective and stable operation and utilization of FineReport products in information system projects, we have established improved after-sales and technical support systems and passed the ISO9001 International Quality System Certification in order to deliver complete and effective after-sales services and technical support to our clients.
I. Service Network At present, FineReport has 15 branch offices and 41 offline service outlets in Southeast Asia, Japan, Taiwan and other places across the Mainland China, Delivering exquisite, professional, timely and highly efficient local services to all large and medium-sized cities and regions. We also provide various services to handle your problems in time.
II. Service Quality Management System Based on the FineReport management system, the FineReport service quality management system is a strict top-down service evaluation mechanism comprising standard service processes and service quality supervision and examination systems to guarantee service quality. The FineReport service process is a closed process starting from and ending with our clients: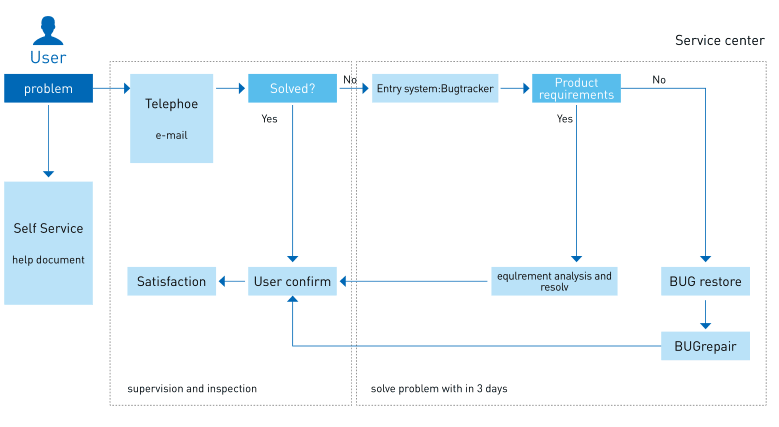 To guarantee high-quality technical support services, FineReport has implemented 3 kinds of supervision and survey mechanisms: 'Number of Problems & Problem-solving Accuracy Examination', 'Client Satisfaction Survey' and 'Evaluation and Feedback of Code Development Quantity'. FineReport also offers a '3-day Problem-solving' mechanism. These 4 mechanisms have been included in the performance evaluation of our service team to ensure the powerful implementation of our service principles and ideas.
III. Service Contents To ensure the timely update of software versions, continuous and effective operation of software systems, and reduction of operation costs and related risks, and to provide a reliable response in case of technical faults, FineReport BI and Reporting Tool provides a wide variety of services to meet every kind of requirement.
Version Update
Version update means an update from a low product version to a higher one (e.g., from V7.0 to V.7.1 or from V.7.0.4 to V.7.0.5). Users can obtain software permission (registration code) or jar package for version update. To ensure successful upgrading, users can also apply for upgrading support from the FineReport Service Center, which will provide upgrading risk evaluation, make suggestions on upgrading necessity and processes or provide other support.
Client Review
To provide our clients with better services, the FineReport Service Center implements client review to gather information about the comprehensive satisfaction of our clients with our products and services through letters, site visits, online questionnaires and telephone interviews. In this way, we improve our product quality and enhance our technical service efficiency and satisfaction.
On-site Technical Support
For problems that cannot be settled through network remote support, our technicians will visit the site to conduct face-to-face communication, check, position and diagnose the problems and propose the solutions. In addition, our technicians will suggest settlement approaches and preventive plans for similar problems.
Emergency Rescue Service
FineReport provides a 24/7 ongoing emergency rescue service. In case of any major faults in FineReport BI and reporting software applications, our experienced engineers will provide technical guidance or on-site emergency rescue services. 'Major faults' means any emergency faults that cause the abnormal operation of systems.
Demand Feedback
During software operation, users may feed back application problems, function requirements and suggestions to the FineReport Service Center through various channels. This feedback will be included in the demand resources of the product upgrade plans.
Problem Solving
In case of any problems or difficulties (for example, the implementation method of a function, error report or product bug) during product operation and usage, users can obtain technical guidance and support from the auto service platform or online service platform.
Regular Technical Training
Users may participate in the regular technical training organized by FineReport reporting software(including on-site training and online training) in which our trainers teach the basic information and high-level techniques of using the business intelligence and reporting software or settle technical problems on site.
Special Service
Under this technical support service mode, special technical supporters and dedicated access will be provided to greatly improve our communication and problem-solving efficiency.
Customized Training
FineReport delivers customized training services based on client requirements. The customized training is based on the technical levels of users, and the training contents and times are flexible to achieve better effects and higher efficiency.
Secondary Development Assistance
As the 'Customized Function Development' is costly, FineReport business intelligence tool also provides secondary development assistance to help clients realize the customized development of their desired functions at a lower cost.
Copyright©2017 Fanruan Software Co.,Ltd. All Rights Reserved.